---
Thursday, February 11, 2016
With an edict from ownership to keep a lid on payroll, a desire to make his team younger and more athletic, and a vow to hold onto elite prospects, Brian Cashman had a rather tricky task as the offseason began.

And now that spring training is just a week away, it seems fair to say the Yankees' GM has gone a long way toward accomplishing that task on all fronts.

Other teams had splashier offseasons, to be sure, most notably the division rival Red Sox, who signed an ace in David Price and traded for a top closer in Craig Kimbrel.

Of course, it cost the Red Sox $217 million to secure Price — or $217 million more than the Yankees spent on major league free agents this winter. Instead Cashman pulled off trades for Aroldis Chapman, Starlin Castro, and Aaron Hicks for seemingly little in return, earning praise from fellow executives.

"You can make a case that they executed a plan as well as any team this offseason,'' a rival exec said Wednesday. "They wouldn't have gotten Chapman without the domestic violence situation, but, like it or not, they took advantage of it, and the bottom line is they acquired some quality young talent at a relatively low cost.''
Given the restrictions in place, I do think Cashman has done a fine job this offseason. I don't think it's enough to make them strong contenders for the division, but a few breaks and they could be in the mix. In the short-term, t's frustrating to think that if the team wasn't so hell-bent on restricting payroll that they may have projected as the class of their division, but it a longer-term view will possibly vindicate them.
Possibly.
---
Tuesday, February 9, 2016
Yulieski Gourriel, long considered the best player remaining in Cuba, has defected with his younger brother, Lourdes, and the pair will be seeing major-league employment, according to multiple reports.

And the elder Gourriel likely has his set on the Yankees.

In 2015, Gourriel told Yahoo Sports he wanted to play at the "maximum level of baseball in all the world" and would cherish a chance to play with his favorite player, Alex Rodriguez.
I don't suppose he'd take a minor league contract with an invitation to spring training?
---
Friday, February 5, 2016
For the sake of argument, though, say they don't. Hell, say they sign Strasburg for $28 million a year. After the 2017 season, Sabathia is gone, as are Rodriguez, Nathan Eovaldi, Michael Pineda and Dustin Ackley. Even factoring in generous raises for Dellin Betances, Aaron Hicks, Didi Gregorius and Chasen Shreve, that would leave the Yankees at $152 million. And if Masahiro Tanaka were to opt out of his contract, which he has the option to do following 2017, that would shave another $22.1 million in taxable money off the budget.

Here is where the Yankees' resolve will be tested. The free agent class of 2017-18 is far better than the previous mess, with Jake Arrieta, Tyson Ross, Todd Frazier, Eric Hosmer, Justin Upton, Lorenzo Cain, Johnny Cueto, Brandon Belt, Lucas Duda, J.D. Martinez, Alcides Escobar, Alex Cobb, Lance Lynn, Wei-Yin Chen, Chris Tillman, Mike Moustakas, Trevor Plouffe and others available. If the Yankees can manage to stay competitive enough in 2016 and '17 to ward off compulsively spending in the offseasons after, the confluence between their patience and the bonanza awaiting in the class of 2018-19 could save them tens of millions of dollars in luxury-tax payments.

Calling the 2018-19 offseason a bonanza might be selling it short. Though it's more than two years away, teams already are banking cash in anticipation of it, multiple sources have told Yahoo Sports. The deluge of talent that could be available – Josh Donaldson, Clayton Kershaw, Manny Machado, Andrew McCutchen, Jose Fernandez, Matt Harvey, David Price, Dallas Keuchel, Adam Jones and Jason Heyward – is led by Harper, the reigning National League MVP who will just have turned 26.

Nobody with the Yankees dared comment on Harper, even off the record, because their future marriage is considered so inevitable by most in the sport that the team dare not trifle with tampering charges. Considering the pains to which the Yankees are going to tighten finances, Harper as the endgame makes worlds of sense.

His age – and the ability to cull prime years from a free agent, a rarity – is as much of a selling point as his ability. And Harper's transformation from enfant terrible to the most marketable player in baseball by a large margin fits the Yankees' ethos. Star power matters to the Yankees more than any other team.
The Yankees should be planning to bid on Harper if he makes it to free agency. But I hope they aren't planning everything with the idea that Harper WILL be a Yankee as soon as he can be signed.
If you were to put odds on Harper being a Yankee, what would you put it at? 50%? 25%?
---
Thursday, February 4, 2016
Maybe Alex Rodriguez will never pick up a glove in a Major League Baseball game again.

If you listen to Yankees general manager Brian Cashman, it sounds possible, if not likely.

The Yankees aren't only going to skip giving A-Rod a try at first base in the wake of the news that Greg Bird's shoulder surgery will keep him out all season, but they won't even give him a shot in the field, Cashman said, according to a report from the New York Post's Joel Sherman.
This seems rather inflexible to me. I find it hard to believe Rodriguez can't play the field at least once in a while, just to increase the team's options a bit. But the Yankees certainly know more about it than I do.
---
Wednesday, February 3, 2016
It was a question raised by WFAN's Sweeny Murti on Monday, and it's an interesting one:

2017 plan is in question too as Bird loses a critical year of development. Maybe a stopgap option? Maybe that's Teixiera??

— Sweeny Murti (@YankeesWFAN) February 1, 2016

The proposition, of course, stems from the fact that Yankees' 23-year-old backup first baseman Greg Bird will miss the entire 2016 season because of shoulder surgery he had performed on Tuesday to repair a torn labrum.

The problem with Bird's injury isn't so much that he can't play in the Bronx this year—he was slated to start the year in Triple-A anyway—but that he is going to lose a year of maturation and development.
But Hal-Cap?????
I guess they could extend a qualifying offer to Teixeira and hope he sticks around for a year or they get a draft pick out of it.
---
Monday, February 1, 2016
Yankees first baseman Greg Bird will miss the 2016 season due to a torn labrum in his right shoulder.

Bird initially hurt his shoulder last May while in the minors, and felt discomfort again this offseason. He will have surgery Tuesday to repair the torn labrum.

The 23-year-old had 11 home runs in 157 at-bats for the Yankees as a rookie last season.

Bird was projected to begin the season at Triple-A rather than sit behind incumbent first baseman Mark Teixeira, but would have been first in line for major league at-bats in the event of an injury to Teixeira or designated hitter Alex Rodriguez.

Now he misses a full year of developmental time and has a serious injury on his ledger.
This is not good. Hopefully Bird can make a full recovery, but losing a year of development is not good for him.
The New York Yankees' vast riches come with sky-high expectations, and both the team and its fans bristle at the concept of rebuilding. So the Yankees entered 2015 with designs on contention but question marks all over the diamond, mostly in the form of aging and high-priced former free agent acquisitions coming off ineffective or injury-riddled seasons.

Then the season started, and many of those same players enjoyed resurgent seasons and good health. And while the club played its way to a American League wild-card berth — losing to Dallas Keuchel and the Houston Astros — general manager Brian Cashman subtly continued the process of acquiring and developing a new core of young players to buttress the big-ticket stars on the roster and a group fit to support the next crop of marquee Yankees superstars whenever it should come.

The success of the 2016 Yankees will still largely rest on the performance of familiar faces signed to big deals on the long side of 30. The club will count on Mark Teixeira, Alex Rodriguez and Carlos Beltran — the youngest of whom, Teixeira, will turn 36 in April — to provide a good portion of its offense. And it will hope for rejuvenated output from Jacoby Ellsbury and Chase Headley to hang with the homer-happy Toronto Blue Jays and the suddenly retooled Boston Red Sox in the AL East.

But 2015 saw the Yankees debuts of shortstop Didi Gregorius, starter Luis Severino and first baseman Greg Bird, all of whom look ready to be regular contributors at the big-league level. And in Masahiro Tanaka, Michael Pineda and Nathan Eovaldi, Cashman might have collected the bulk of a solid starting rotation on the cusp of its prime years.

Many prognosticators expected the Yankees to add another starter before the 2016 season to shore up the back end of a rotation rendered shaky by CC Sabathia's continued decline and struggles with health, alcoholism and velocity. Instead, the Yankees made fireballing closer Aroldis Chapman the biggest acquisition of their offseason, beefing up a bullpen that already included dominant late-inning arms in Andrew Miller and Dellin Betances.

It appears the Yankees will take the approach made famous by the Kansas City Royals, relying on a decent offense and a group of starters good enough to keep them in games through the sixth inning, then turning the ball over to a trio of nearly unhittable relievers.
Is this 'famous' approach a sustainable one?
---
Friday, January 29, 2016
Alex Rodriguez will turn 41 this summer, but it appears he will enter Yankees camp with a spring in his step and the enthusiasm of a rookie.

He has spent the winter working out, spending time with his two daughters and "trying to get this old body ready to go again,'' he said by phone from Miami yesterday. "I've only been 40 once, but it is new territory. I embrace it. One thing about this game, it has a funny way of humbling you and it's such a difficult game to play every day. It's so much of a better game today than when I first came in 1994. The young talent is as good as I've ever seen it.''
It'll be interesting to see how the Yankees handle it if Rodriguez approaches the 27 homers he needs to tie Babe Ruth at 714 for third on the all-time list. I hope he gets there and more, but I wouldn't bet on it, at least not in 2016.
---
Wednesday, January 27, 2016
Free agency has been around since 1975, and since then the Yankees have never gone an offseason without signing a major-league free agent. Not once. The closest they've come is re-signing one or two of their own free agents a few times. They're on the verge of doing something they've never done before.

Not only have the Yankees not signed a big-league free agent, they've made it clear this is intentional. Would they jump in sign a player at the right price? Of course. But right now they don't see any of the prices as being right. Owner Hal Steinbrenner and GM Brian Cashman have indicated they are trying to avoid long-term contracts on multiple occasions.

The last major-league free agent the Yankees signed was Stephen Drew last January. That was a tiny little one-year contract. Most of New York's major recent moves have been trades, including Chapman and Castro this offseason, Dustin Ackley at the trade deadline, and Didi Gregorius and Nathan Eovaldi last offseason.
The Yankees decided not to sign any MLB free agents during an offseason with seemingly the best free agent class we've seen in years.
If that was going to be the case, why didn't they just go for Yoan Moncada with the money they didn't spend this offseason?
Time will tell if this plan was wise.
---
Tuesday, January 26, 2016
There may not be a nicer man in baseball than Adam Warren. But though he was respected by the Yankees' hierarchy, he always seemed to be an afterthought in the team's plans. The topper came at the end of June last season, when he was lifted from the starting rotation, even though his ERA was 3.59, while CC Sabathia's was 5.65.

There was neither a public complaint or a peep from Warren. He just went to the bullpen, did his job and the Yankees finally restored him back to the rotation in the middle of September.

Of all the Yankees who started 17 or more games, Warren's 3.66 ERA only trailed Masahiro Tanaka's 3.51. (Luis Severino had a 2.89 ERA in 11 starts.) His success led to the Yankees filling their biggest offseason need, as they traded him to the Chicago Cubs to acquire a starting second baseman in Starlin Castro.

Warren, 28, is the kind of guy you may not appreciate fully until he is gone. In 162 games, a solid swing man, with no whine in him, is in the words of Yankees GM Brian Cashman, a "tremendous asset."

"He always did everything he was asked," Cashman said. "That's how he is wired."
I'm hoping Ivan Nova can fill the Warren role reasonably well. I haven't seen anything out of Bryan Mitchell aside from velocity that makes me think he's going to be any better than he was last year. But you never know with pitchers.
---
Monday, January 25, 2016
1) Gary Sanchez, C, Grade B+: Age 23, hit .274/.330/.485 with 18 homers, 29 walks, 78 strikeouts in 365 at-bats in Double-A/Triple-A, threw out 37% of stealers with significant reductions in passed ball and error rates as receiving improved. Can stay behind the plate, getting to his power more often, and seems to have matured emotionally after previous problems.

2) Jorge Mateo, SS, Grade B+: Age 20, hit .278/.345/.392 between Low-A and High-A with strong run late (.321/.374/.452 for Tampa), stole 82 bases, 43/98 BB/K in 449 at-bats. Top-shelf speed and uses it well, may or may not develop more power, tools fit at shortstop but needs more polish as you'd expect given his age. You can make a good case to rank him ahead of Sanchez and I may ultimately do so when the Top 150 prospects list comes out in March.

3) Aaron Judge, OF, Grade B+/B: Age 23 (24 in April), hit .284/.350/.516 with 12 homers in 250 at-bats in Double-A then .224/.308/.373 with eight homers in 228 at-bats in Triple-A. Huge 6-7 wingspan and the power to match, has some pure hitting skills though Triple-A pitchers were able to contain him more often than not, an under-rated fielder. Impact power but still uncertain what his batting average and OBP will look like.

4) James Kaprielian, RHP, Grade B+/B: Age 21 (22 in March), first round pick out of UCLA, ace of the staff there, good curve, good slider, good change-up, throws strikes, main question revolves around fastball which was 88-92 in college but hit 93-96 in the New York-Penn League. Very polished; an Aaron Nola-like rapid rise is possible under the right conditions.

5) Domingo Acevedo, RHP, Grade B: Age 21, posted 1.69 ERA with 53/15 K/BB in 48 innings in New York-Penn League, huge guy (6-6, 240) with huge fastball (95-100 MPH, peaking at 102-103 according to some reports), good change-up, breaking ball is inconsistent. Questions about command and long-term role, could be dominant ace-type if breaking ball comes along, perhaps a closer if it doesn't.
You can go to the link to see 6-20.
The Yankees don't have any 'A' prospects according to this list, but their top 10 prospects all range from a B+ to a B-, which is good.
---
Friday, January 22, 2016
He's played in four cities now," said a person close to the situation, "and he's told friends that he felt more at home in New York than anywhere else by far. It's a great city for the Latin guys."

To that end, another source said that Cespedes' agents, the Roc Nation group, reached out to the Yankees on Thursday to tell them of the slugger's desire to stay in New York, and ask if they'd be willing to jump in with a three-year offer.

All indications are that the Yankees have no such intentions, but the scenario itself is revealing and perhaps encouraging to the Mets.
I would certainly be interested in Cespedes on a three year deal if that was really an option, but if the team's primary goal is getting below the luxury tax threshold, then it's not an option.
---
Thursday, January 21, 2016
CAIRO 2016 v0.1
I honestly didn't think I would get around to doing CAIRO this year, but for those patient enough to wait, it's here.
So with that done, i can finally try and project the Yankees as of this point in time. Here's how that looks.
| | | | | | | | |
| --- | --- | --- | --- | --- | --- | --- | --- |
| Player | Pos | PA | avg/obp/slg | Outs | BR | oWAR | Def |
| Jacoby Ellsbury | CF | 550 | .262/.320/.379 | 376 | 57 | 1.5 | 1 |
| Brett Gardner | LF | 575 | .256/.332/.400 | 381 | 65 | 1.1 | 1 |
| Carlos Beltran | RF | 500 | .262/.321/.427 | 344 | 59 | 1.3 | -8 |
| Mark Teixeira | 1B | 450 | .238/.332/.463 | 306 | 60 | 1.4 | 4 |
| Alex Rodriguez | DH | 450 | .247/.340/.434 | 303 | 57 | 0.7 | 0 |
| Brian McCann | C | 525 | .235/.307/.413 | 370 | 59 | 2.8 | 0 |
| Chase Headley | 3B | 600 | .252/.328/.381 | 414 | 65 | 1.9 | 4 |
| Starlin Castro | 2B | 600 | .272/.314/.405 | 425 | 65 | 1.9 | 2 |
| Didi Gregorius | SS | 515 | .256/.316/.377 | 352 | 53 | 1.8 | 2 |
| Starters | | 4765 | | 3271 | 540 | 14.4 | 7 |
| Aaron Hicks | OF | 375 | .251/.330/.391 | 255 | 41 | 1.3 | 0 |
| Dustin Ackley | UT | 300 | .241/.299/.395 | 212 | 31 | 0.3 | 0 |
| Gary Sanchez | C | 150 | .231/.283/.383 | 109 | 14 | 0.5 | 0 |
| Greg Bird | 1B | 125 | .238/.311/.421 | 87 | 14 | 0.2 | 0 |
| Pete Kozma | IF | 125 | .215/.282/.311 | 91 | 9 | 0.0 | 0 |
| Rob Refsnyder | 2B | 50 | .256/.325/.388 | 35 | 5 | 0.2 | -1 |
| Ben Gamel | OF | 38 | .244/.300/.358 | 27 | 3 | 0.0 | 0 |
| Mason Williams | OF | 15 | .223/.285/.312 | 11 | 1 | 0.0 | 0 |
| Bench | | 1178 | | 828 | 120 | 2.4 | -1 |
| Team Total | | 5943 | | 4098 | 660 | 16.7 | 6 |
CAIRO has taken the underlying assumptions and assumed the Yankees will score 100 fewer runs than last year. Does that seem too pessimistic? Maybe, but that's what it says.
Here's how the pitching looks:
| | | | | | | | | | | |
| --- | --- | --- | --- | --- | --- | --- | --- | --- | --- | --- |
| Player | Role | IP | R | HR | BB | K | RA | ERA | FIP | WAR |
| Masahiro Tanaka | SP1 | 175 | 78 | 25 | 34 | 163 | 4.01 | 3.65 | 3.82 | 3.1 |
| Michael Pineda | SP2 | 175 | 76 | 21 | 28 | 158 | 3.95 | 3.70 | 3.44 | 3.2 |
| Nathan Eovaldi | SP3 | 170 | 79 | 14 | 49 | 127 | 4.22 | 4.02 | 3.65 | 2.6 |
| Luis Severino | SP4 | 170 | 76 | 13 | 56 | 154 | 4.05 | 3.78 | 3.45 | 2.9 |
| CC Sabathia | SP5 | 130 | 71 | 21 | 38 | 111 | 4.91 | 4.61 | 4.55 | 0.9 |
| Ivan Nova | SP6 | 100 | 54 | 13 | 32 | 75 | 4.80 | 4.63 | 4.52 | 0.9 |
| Bryan Mitchell | SP7 | 50 | 30 | 5 | 25 | 40 | 5.48 | 5.04 | 4.40 | 0.0 |
| Luis Cessa | SP8 | 20 | 13 | 2 | 6 | 15 | 5.91 | 5.45 | 4.21 | -0.1 |
| Starters | | 990 | 478 | 115 | 267 | 842 | | | | 13.6 |
| Aroldis Chapman | CL | 65 | 19 | 4 | 30 | 102 | 2.64 | 2.49 | 2.38 | 1.9 |
| Andrew Miller | SU | 65 | 20 | 6 | 22 | 97 | 2.78 | 2.42 | 2.55 | 1.8 |
| Dellin Betances | SU | 75 | 21 | 5 | 31 | 109 | 2.60 | 2.29 | 2.54 | 2.2 |
| Nick Goody | MR | 60 | 26 | 6 | 26 | 68 | 3.93 | 3.63 | 3.61 | 0.8 |
| Jacob Lindgren | MR | 50 | 20 | 5 | 24 | 59 | 3.58 | 3.37 | 3.54 | 0.9 |
| Chasen Shreve | MR | 45 | 21 | 6 | 20 | 48 | 4.16 | 3.88 | 4.09 | 0.6 |
| James Pazos | MR | 45 | 18 | 3 | 19 | 44 | 3.63 | 3.37 | 3.33 | 0.8 |
| Branden Pinder | MR | 30 | 15 | 4 | 12 | 26 | 4.57 | 4.28 | 4.36 | 0.2 |
| Nick Rumbelow | MR | 25 | 13 | 3 | 8 | 25 | 4.73 | 4.34 | 3.55 | 0.1 |
| Vicente Campos | MR | 0 | 0 | 0 | 0 | 0 | 7.25 | 6.72 | 4.97 | 0.0 |
| Relievers | | 460 | 174 | 41 | 193 | 578 | | | | 9.4 |
| Team Total | | 1450 | 655 | 155 | 458 | 1415 | | | | 23.0 |
Assuming that the Yankees will score 660 runs, with a pitching staff that would allow 655 runs combined with a defense that would save about six runs relative to average leaves with you with a .508 winning percentage, or a roughly 82 win team. You can argue that having the bullpen they have can help them outperform in enough close games that they are maybe closer to an 84 or 85 win team. Then they just need a few players to exceed their projection here and they should be right in the middle of the wild card race, with a puncher's chance at the division.
There's a team tab on the spreadsheet where you can modify the above depth charts for the Yankees in terms of playing time. You can even add (unlike the real Yankees) and remove players if you want. Anything highlighted in yellow is adjustable. Just make sure that your team batting outs add up to 4100 and your team innings add up to 1450 if you want a realistic projected final win total.
You can download the full spreadsheet at the following link:
cairo_2016_v0.1.xls
---
Tuesday, January 19, 2016
The Yankees and shortstop Didi Gregorius have avoided salary arbitration, agreeing to a one-year, $$2.425-million deal, according to the YES Network's Jack Curry.

The sides were unable to come to an agreement Friday. Early last week, Gregorius filed for a $2.525-million 2016 salary. On Friday, the Yankees filed at $2.3 million.

The resolution doesn't come as a surprise. Considering the gulf between the Yankees and Gregorius was so small, and that the Yankees haven't taken a player to court over arbitration since Chien-Ming Wang in 2009, it was bound to happen.
Still unsigned are Aroldis Chapman, Ivan Nova and Nathan Eovaldi. I wouldn't be surprised to see them take Chapman and Nova to arbitration since neither is likely to be a Yankee after 2016, but I assume they'll agree with Eovaldi shortly.
---
Friday, January 15, 2016
Here's what I've been told: The Yankees are not planning to sign a Major League free agent this offseason.

I'm certainly not the only reporter hearing such a thing. The Yankees have taken on some money in trades, and they're about to pay a bunch of money to arbitration eligible players — and they committed a ton of money two years ago — but it's entirely possible, if not likely, that the Yankees will not sign a single Major League free agent this winter.

The Yankees' last Major League free agent signing was technically Garrett Jones during weird situation last season when the Yankees released, then re-signed, then released Jones again, all within a few days.

The Yankees' last normal Major League signing was Stephen Drew to a one-year, $5-million deal which became official last January 16, exactly a year ago tomorrow.
Happy Hal-iversary!
---
Thursday, January 14, 2016
Now that both the Mets and Yankees have graduated some of their top prospects from the minors the last couple of years, which of the two local teams has the better farm system?

MLBpipeline.com, which ranks individual prospects and organizations as well, comes out with rankings for 2016 at the end of this month, and Jim Callis, one of their evaluators, says the Yankees will fare better than the Mets.

"They're both in pretty good shape, considering some of the guys who have gone to the majors,'' Callis said on Wednesday. "But I like the Yankees more than the Mets right now. The Yankees should be somewhere in the 6-to-10 range (among all farm systems in baseball), and the Mets will be more in the 11-to-15 range.''
Woo! What do they win for that?
---
Tuesday, January 12, 2016
The Yankees acquired acquired left-hander Tyler Olson and infielder Ronald Torreyes in a Tuesday deal with the Dodgers, sending infielder Rob Segedin to Los Angeles.

The two newcomers filled out the 40-man roster for the Yankees, who still owe a player to be named or cash considerations to the Dodgers to complete the transaction.

Olson, 26, had been designated for assignment last Wednesday by the Dodgers, who had acquired him in mid-December from Seattle, where in 2015 he had made his Major League debut. Olson went 1-1 in 11 relief appearances with the Mariners after posting a 4.47 ERA in 25 games, including six starts, with Triple-A Tacoma.

Torreyes, primarily a middle infielder (511 of 612 Minor League games at shortstop or second base), appeared in eight games in '15 with the Dodgers. Otherwise, the 23-year-old Venezuelan was a vagabond last season, moving about the Double-A and Triple-A levels of three different organizations (Blue Jays, Astros, Dodgers).
For years now, Cashman has been a real master with playing with the back end of the 40-man roster, both in timing when to waive guys and keep them (Austin Romine, Slade Heathcott…other people I can't remember right this second) and also when to pounce on other team's 40-man issues. Torreynes is a really decent depth piece at the moment, with some real upside. He was only available due to an L.A. roster crunch, and a lot of teams were interested and Cashman got in there and got him for very little in return (unless the player to be named later is someone notable - I sincerely doubt that, though). Segedin is not terrible, but he's not nearly as good of a prospect as Torreyes.
Olson is more strictly a depth piece.
Still, a fine trade by Cashman. He has a sharp eye.
By one measure, anyway.

Our friends at Fangraphs recently calculated projected win-loss totals for all 30 major league teams in 2016, factoring in runs scored and allowed. Where do the Yankees fall?

Exactly where they did last year: 87 wins, 75 losses.

Does that translate to a playoff berth? According to Fangraphs, yes, that would make them the No. 1 Wild Card team, even though this year's squad is projected to score fewer runs than in 2015 when they plated the second-most in baseball.
I'm more of a fan of using runs scored and allowed to project a team's W/L record than an "add the WAR" approach, but that seems a bit high to me. That being said, in eyeballing their projected standings, they pass two important sniff tests. Total wins and losses add up to 2430, and runs scored and allowed are essentially equal aside from rounding.
I would have guessed the Yankees would project to be in the 85 win range, even though they won 87 last year and had a Pythagorean W total of 88 and didn't really lose anyone important and traded for a couple of upgrades. So it's not like they're hugely over-projected or anything.
For whatever it's worth, at around this time last year Fangraphs had the Yankees projected at 82-80.
The fact is the bulk of the Yankees' starting lineup is moving further away from the typical peak of a baseball player and their offense isn't likely to be as good. Can Starlin Castro and Didi Gregorius make up for declining bats everywhere else? It's not particularly realistic which these projections seem to agree with.
But the pitching could be better. You could make a case that any one of Masahiro Tanaka, Michael Pineda, or Luis Severino could pitch like one of the top 15 starters in the AL. Hell, if they all did, the Yankees could win 100 games. But they could also all get hurt or be less effective.
I agree with the basic premise behind the statistics here though , which is that the Yankees should be good enough to contend for a wild card, and the division is in play because I don't think Boston or Toronto are markedly better than them, and I'm pretty sure Baltimore and the Rays are worse.
---
Friday, January 8, 2016
The Yankees just announced that they have acquired right-handed pitcher Kirby Yates from the Cleveland Indians in exchange for cash considerations.

Yates, 28, has appeared in 58 big league games, all with the Rays in the past two years. The Indians acquired him this offseason and ultimately designated him for assignment after they signed Mike Napoli. He's always posted high strikeout totals with a fastball that averages roughly 93 mph and jumps up to 95. A slider is his primary offspeed pitch.

The Yankees' 40-man roster now stands at 38.

This move reminds me of the Yankees in past offseasons when they've had some 40-man wiggle room and have regularly made small trades and waiver claims to add depth and options heading into spring training.
Yates has options left, so the Yankees can stash him in the minors. He's also obviously pretty fungible if they ever need room on the 40-man. They definitely like pitchers who misses bats, so he fits in in that regard.
All in all, clearly not a big move, but hey, at least it's something!
With his Hall of Fame jersey snug around his chest, and after he briefly switched his baseball cap backwards to the delight of the media audience assembled at the New York Athletic Club Thursday afternoon, Ken Griffey Jr. was asked to delve back into his baseball past.

The time he and his father, Ken Sr., hit back-to-back home runs as Mariners teammates in 1990; the time when Junior robbed Jesse Barfield of a home run at Yankee Stadium, a highlight Griffey Jr. ranked "in the top 10" of his career; and, to the dismay of Yankee fans still, the time Junior scored from first base at the Kingdome in the series-clinching Game 5 of the 1995 ALDS, which sent the Yankees home.
Yeah, I remember that too, but not fondly. That 1995 ALDS was one hell of a series though.
Congratulations to both Griffey and Piazza.
---
Wednesday, January 6, 2016
The one that will sign for league minimum?
The month of January typically marks a time when MLB's free agency period starts winding down, as the marquee names put the finishing touches on their lucrative new contracts.
This year, the market has played itself out more gradually, and several All-Star talents and young impact players remain unsigned with just over a month and a half left until spring training returns.

The Yankees have mostly stayed out of the negotiations between available free agents still out there today, electing instead to craft creative and sensible trades to help improve the roster piece by piece.

But what if Yankees GM Brian Cashman had a sudden change of heart and decided to sign a new player to the club?

After the Yankees traded a quartet of prospects for closer Aroldis Chapman from the Cincinnati Reds, the Yankees' roster fell below the 40-man mark, and stands at 37 players at the moment of publication. The door is open for at least one signing, but who would be the best fit to join the Yankees clubhouse?

The two biggest areas of need are most notably for a left-handed starting pitcher, and a right-handed bat with some power. CC Sabathia is the lone lefty starter currently slated for a spot in the 2016 rotation, and excluding Alex Rodriguez, the Yankees utilized a lineup last year with five lefty batters.
I could see the Yankees going after a starter, especially if they end up trading Ivan Nova, but the remaining starters are fairly unimpressive.
Bronson Arroyo
Brandon Beachy
Chad Billingsley
Joe Blanton
Mark Buehrle
Chris Capuano
Wei-Yin Chen*
Doug Fister
Yovani Gallardo*
Jeremy Guthrie
Aaron Harang
Josh Johnson
Ian Kennedy*
Mat Latos
Cliff Lee
Tim Lincecum
Kyle Lohse
Cory Luebke
Shaun Marcum
Justin Masterson
Mike Minor
Yaisel Sierra
Alfredo Simon
Eric Stults
Jerome Williams
Randy Wolf
*Rejected qualifying offer and would cost the Yankees their first round pick
Yeah, I'd likely pass on that group. Maybe kick the tires on Buehrle if he'd sign a deal centered around incentives given the chance he won't be healthy. I'd also call Cliff Lee just to tell him that he's too old and broken down.
---
Monday, January 4, 2016
The Marlins have shown interest in Yankees starting pitcher Ivan Nova, according to a report from the Boston Globe's Nick Cafardo.

The report didn't say what the Marlins might be willing to surrender for Nova.

The 28-year-old right-hander is also drawing interest from other clubs as a back-end starter, the report said, and the team could move him within the next month.

Yankees pitchers and catchers report to spring training Feb. 18.

Nova has spent his entire major league career with the Yankees, who have so many rotation options that he could be expendable for the right return.
I don't know that the Yankees have the depth in starting pitchers in the organization to trade Nova, who doesn't project to pitch all that well but is probably better than the people they'd be replacing him with. Particularly since the return for Nova would likely not be much more than salary relief and a lottery ticket. I mean, how much is a back-end starter who is under team control for one year coming off a ligament replacement surgery sandwiched by ERAs of 8.27 and 5.07 in limited time really worth?
And Happy New Year! I resolve to complain more!
---
Tuesday, December 29, 2015
The depth of the Yankees' bullpen remains questionable, particularly after the trades of right-handed swingman Adam Warren (for Castro) and left-hander Justin Wilson (for minor leaguers). But the back end, my goodness. Chapman, Miller and Betances last season ranked 1-2-3 among relievers in strikeout rate, minimum 150 batters faced.

Think about manager Joe Girardi's options now. He can go with a traditional, push-button bullpen—Betances in the seventh, Miller in the eighth, Chapman in the ninth. Or, he can employ less predictable, more flexible thinking, playing matchups—Betances is the only right-hander in the trio—and/or using one or more of his late-inning weapons for more than three outs. Why not, when at least one figures to be in reserve for the next game?

Cashman, in manipulating his roster, also can go in any number of directions—again, depending upon the nature of Chapman's discipline. The GM can trade Chapman or Miller if the Yankees' rotation crumbles and the team falls out of contention by the deadline. He can trade one of them next offseason if Chapman fails to qualify for free agency due to the length of his suspension—or make Chapman a qualifying offer to ensure draft-pick compensation if he indeed becomes eligible to depart.

The Yankees figure to pay Chapman about $13 million in arbitration this season. They owe Castro a minimum of $38 million over the next four seasons. Bargain contracts, by today's standards. Bargain trades, considering what the Yankees gave up.

This isn't necessarily a playoff team, but the Yankees' 2016 season is partly about buying time until the contracts of first baseman Mark Teixieira and outfielder Carlos Beltran expire, just as the 2017 season will be partly about buying time while left-hander CC Sabathia and third baseman Alex Rodriguez play out their deals.

In the meantime, Cashman is threading the needle—protecting his assets, getting younger and steering clear of new long-term obligations, in accordance with an ownership mandate.

It's a neat trick he's pulling off. And he might not be done yet.
I'm trying to get some kind of team projection done shortly, but I do not think this is a playoff team right now unless a lot of stuff ends up going right.
---
Monday, December 28, 2015
The proverbial hot stove just got turned up in The Bronx.

The Yankees have traded for Cincinnati Reds closer Aroldis Chapman, who throws 100 miles per hour and arrives with significant baggage as an accused domestic abuser.

The price was four non-elite prospects: infielders Eric Jagielo and Tony Renda, and right-handed pitchers Caleb Coltham and Rookie Davis.

If they retain incumbent closer Andrew Miller and lights-out setup man Dellin Betances, the Yankees would have a monster bullpen that includes last season's top three relievers in strikeouts per nine innings. However, a trade of Miller remains a possibility as the Yankees look to get younger this offseason.
It is hard to judge this trade given Chapman's uncertain availability, and he seems like a person whose company I would not particularly enjoy, but he is arguably the best reliever in baseball and did not cost the Yankees one of their really important prospects.
---
Thursday, December 24, 2015
I thought A.J. Herrmann did a cute bit here with these "Yankee Twelve Stats of Christmas"...
THE YANKEES 12 STATS OF CHRISTMAS

12 - Mickey Mantle, one of baseball's most feared sluggers, hit a total of 12 walk-off home runs in his career, the most of any Yankee in team history and one more than Babe Ruth.

11 - Mariano Rivera earned an MLB-record 11 saves during World Series play over the course of his storied 19-year career. Rollie Fingers ranks second on that list, with six saves.

10 - David Cone struck out 10 batters over the course of his 1999 perfect game. The Yankees defeated the Expos that day, as Cone required just 88 pitches to record his 27 outs.

9 - The Yankees franchise record for most shutouts in a season belongs to Ron Guidry, who had nine over the course of his phenomenal All-Star year in 1978.

8 - On two separate occasions, the Yankees hit a franchise-record eight home runs in a single game: once in 1939 against the Philadelphia A's, and again in 2007 against the White Sox.

7 - Iconic Yankees shortstop Derek Jeter owns seven different offensive franchise records, including most games played (2,747), plate appearances (12,602), at-bats (11,195), hits (3,465), singles (2,595), doubles (544) and stolen bases (358).

6 - In 2009, Mark Teixeira and Johnny Damon set the Yankees' franchise record for most back-to-back home runs, with six.

5 - In five straight seasons, the Yankees won a World Series title from 1949-1953 under manager Casey Stengel, the longest consecutive streak in baseball history.

4 - Lou Gehrig went yard four times in a single game against the Philadelphia Phillies on June 3, 1932, becoming the only Yankee ever to accomplish such a feat. No one has matched is before or since.

3 - On August 25, 2011, the Yankees belted a Major League-record three grand slams in one game courtesy of Robinson Cano, Russell Martin and Curtis Granderson en route to a 22-9 blowout over the Oakland A's.

2 - Two Yankees hitters have captured the coveted Triple Crown: Lou Gehrig in 1934 (.363 / 49 HR / 165 RBI) and Mickey Mantle in 1956 (.353 / 52 HR / 130 RBI). The Yankees also had two Triple Crown seasons for pinstriped pitchers, when Lefty Gomez won it in 1934 and again in 1937.

1 - The Yankees are the No. 1 winningest franchise in North American professional sports history with 27 championships.
Merry Christmas to you all from all of us at Replacement Level Yankee Weblog!
---
Wednesday, December 23, 2015
CC Sabathia has been so encouraged about the health of his left arm that he said Wednesday his training is "light years" ahead of where it has been in past offseasons, raising his optimism level about a productive 2016 campaign.

Speaking at Yankee Stadium while greeting fans as part of the 22nd annual Yankees Holiday Food Drive, Sabathia said that he has not stopped throwing since the end of the regular season and is excited about rejoining the team's rotation.

"I'm probably light years ahead, being able to fully work out and do the things I want to do totally healthy," Sabathia said. "The workouts are a lot tougher, but it's kind of what I need at this point in my career."

Sabathia left the Yankees at the conclusion of the regular season, seeking treatment for alcohol abuse. During his month-long stay in rehab, Sabathia said that he was able to find ways to keep his arm loose and strong.

"I'm one of those guys that never stops throwing, so I found a couple of guys in rehab to throw the football with," Sabathia said. "Then when I came out, I picked up the baseball and have been throwing."
On the one hand, my stance on "He's in the best shape of his life" stories is that there typically isn't a whole lot of relevance to them, but with CC, I guess I will take any slightly good news that I can get, as having a CC who pitched like CC did once he began wearing the right knee brace last season would dramatically change the complexion of the Yankees' starting rotation.
---
Tuesday, December 22, 2015
It's interesting, I was looking at Yankees.com the other day and on their front page they had a link to the Yankees' Top 30 Prospects and I was struck by how seemingly out of date it looked, as they had Domingo Acevedo, like, 24th or something like that. And then yesterday, voila, Baseball America put up their Top 10 List and Acevedo was fifth. However, it was not without some other surprises…
TOP 10 PROSPECTS
1. Jorge Mateo, ss
2. Gary Sanchez, c
3. Aaron Judge, of
4. James Kaprielian, rhp
5. Domingo Acevedo, rhp
6. Rookie Davis, rhp
7. Tyler Wade, ss
8. Rob Refsnyder, 2b
9. Wilkerman Garcia, ss
10. Dustin Fowler, of
Apparently their theory is that Judge's stint in AAA has raised enough questions that he fell below Mateo (here is Norris on the comparison between the two:
There are serious questions with Judge's ability to make contact at the highest levels. He is 6-foot-7 with long arms, which leaves him vulnerable on the inner half. Mateo is going to be an up the middle player, which carries a ton of value, and has top-ranked speed. He's got more power than showed up on the field, and an adjustment in his approach could bring more of it to the forefront.
) and Sanchez (who obviously has been hitting the cover off of the ball recently - here is Norris on Sanchez:
Sanchez improved his stock greatly in the second half, both on the field and maturity off of it. I had one evaluator tell me they got him at a 1.79 pop time in the Fall League, which is nuts. He's got massive raw power and could hit in the .260ish range. If he does that behind the plate, he's insanely valuable.
).
What do you all think of the list?
---
Thursday, December 17, 2015
Joe Girardi acknowledged that starting pitching could be a Yankee weakness next season because of all the question marks his rotation faces, especially with pitchers coming off injuries.

"Yeah, I think there's a concern because of health, when you think about (Masahiro) Tanaka coming off an injury, (Nathan) Eovaldi coming off an injury, CC (Sabathia) with a knee he's had to deal with. Michael Pineda, that was the most innings (160.2) he's thrown after a substantial period of time.

"There is some concern. We had a lot of concerns last year and the guys did OK for us. You can go into spring training with five starters that are locked in and you can still have concerns. You'd better have depth."

Yankee starters were tied for 18th in the majors in rotation ERA last season (4.25) and got a total of 927 innings from starters, 21st in the big leagues. The Chicago White Sox's rotation led the majors in innings pitched, recording 1,011.

The Yanks may have a burgeoning star in Luis Severino, but, like the rest of the rotation, there's a question mark about him: Since 2016 will be his first full season, how much of his workload will have to be managed? Ask Matt Harvey about innings limits.
Pretty much yes, every single Yankee starter has legitimate questions. I think a top of three Tanaka, Pineda and Severino could be very good. But it could also be injured and/or have growing pains.
---
Tuesday, December 15, 2015
Across the final two months of the 2014 season, the Yankees played a 40-year-old Derek Jeter at short and sore-footed Stephen Drew at second base, a new position.

Last season, Dustin Ackley, Rob Refsnyder and Drew shared second.

When the 2016 season opens, Didi Gregorius will be at short and Starlin Castro at second.

Defensively, it will be an upgrade over the final two months of 2014 and the entire 2015 season. But how big of one?

"That will be significantly better because of the athleticism and putting Castro at second base, he has the ability to be a very good defensive player,'' an AL talent evaluator said. "Second base is a little easier for a guy like him, and I think he will really hit.''

Joe Girardi acknowledged Adam Warren, who went to the Cubs for Castro, was hard to part with, but you've got to give to get.

"We got a player in return we believe is going to be extremely valuable. Last year, when we made the trade for Didi, we had to give up a starting pitcher in Shane Greene, and there were some questions about that. It worked out pretty well for us,'' Girardi said Monday at a taping for the YES Network's "CenterStage." "Now we feel we've kind of stabilized the middle of our infield, which is extremely important. We have two shortstops out there, which we think will help us tremendously.''
...
With five regulars hitting left-handed, Girardi is glad to add Castro's right-handed bat.

"One of the reasons we added Castro is we were vulnerable to left-handers at the end of the year, and all of a sudden we started seeing a ton of them,'' Girardi said of Castro, a career .295 against lefties, with a .344 on-base percentage. "In our division there was not a lot of left-handed starters early in the year, but that changed and that hurt us.''
Let's hope their drool is justified.
---
Monday, December 14, 2015
When Brian Cashman left Nashville and the Winter Meetings on Thursday, the Yankees general manager admitted the team's bullpen was not a finished product.

And since any additions won't be made through free agency, the general manager is trolling the trade waters looking for help to replace Adam Warren and Justin Wilson.

How difficult is Cashman's job to find a reliever to handle the seventh-inning assignment as Warren and Wilson did last season, knowing the Yankees' need can best be satisfied via trade?

"We will see,'' Cashman said Sunday. "It could come organically or it could be a combination [trade or from within], we will see.''

A free-agent market that provided former Yankee Shawn Kelley with a three-year deal for $15 million is better left alone. The days of giving Steve Karsay four years for $21 million and Rafael Soriano two for $21 million have vanished one year after Andrew Miller landed a four-year pact for $36 million.
I am not really worried about the bullpen, but I am still having a hard time reconciling the fact that the Yankees traded Wilson for two prospects who appear to be marginal at best at a time when Shawn Kelley is getting a three-year deal for $15M.
---
Saturday, December 12, 2015
The Yankees announced Friday morning they have signed right-hander Domingo German, whom they non-tendered a contract to last week, to a minor league deal.

German came to New York as part of a five-player trade with the Miami Marlins a year ago, when the Yankees acquired pitcher Nathan Eovaldi and OF/INF Garrett Jones while sending second baseman Martin Prado and David Phelps to Miami.

German, 23, missed all of last season after undergoing Tommy John surgery. Before that, he had been rated as high as the sixth-best prospect in the Marlins' system. In 293.2 minor league innings (44 of his 77 games have been starts), German owns a 2.33 ERA and has struck out 286 batters while walking 91.

The Yankees appear to have maneuvered well. German was not offered a contract last week (opening a spot on the 40-man roster for someone else), so he was not in the Yankees' system. Had he been, he likely would have been taken in Thursday's Rule 5 Draft.
Other teams can have their fancy David Prices and Jason Heywards. We'll take our Domingo Germans and win the $/WAR championship.
---
Wednesday, December 9, 2015
The Yankees dealt left-hander Justin Wilson to the Tigers for a pair of pitching prospects, right-handers Luis Cessa and Chad Green, on Wednesday.

New York got Detroit's No. 6 and No. 19 prospects in exchange for the 28-year-old Wilson, who was 5-0 with a 3.10 ERA in 74 appearances this past season.
General manager Brian Cashman acknowledged earlier on Wednesday that he would be willing to discuss Wilson—who excelled as the Yankees' seventh-inning man last year, setting up for Dellin Betances and Andrew Miller—as a trade chip.

"If I'm talking about Miller, I'd be willing to talk about Wilson," Cashman said.

The Yankees are in the market for a starting pitcher and bullpen help as the Winter Meetings continue, suggesting that the Wilson trade may be a precursor to flipping the prospects toward one of those goals.
Yet Cashman said that he is also looking to improve the starting pitching depth of the Minor League system in the wake of top prospect Luis Severino's promotion to the big leagues last year.
I think that Cashman has been far too good of a trader in the past to judge this one at the moment, as I have to believe he has something else planned. If this is it, then yes, it is a curious trade. Not a bad trade, but when you have a thin bullpen in terms of top arms and you deal two of your best four relievers, that seems to be a strange approach - unless there are more moves coming, of course.
And since I have faith in Cashman's trading skills, I tend to believe that this is part of a series of future deals that perhaps the guys involved in this deal might be part of. So I would hold off on judging this one just yet.
---
Tuesday, December 8, 2015
The Yankees have acquired SS/2B Starlin Castro for SP/RP Adam Warren and SS/2B/3B/1B/probably DH if Girardi could get away with it Zbrendan Rtan.
It's a pretty fair value trade, as Castro has been awful in two of the past three years but was good in 2014 and he admittedly both hit well and played good defense at second upon becoming a full-time second baseman late last year. Plus, he fits into Cashman's clear model of trying to acquire "has been" players over "never was" players. Like Ackley, Castro was once a star player. Cashman likes to bet on guys like that returning to their star levels.
My only issue with the trade is that "fair value" trades are fine in and of themselves, when you have a strength in one area and you want to improve an area where you're deficient. But here, they took an area where they're iffy and used it to plug an area of weakness. That's somewhat worrisome.
But the trade itself is fine. Cashman is a great trader (unlike Johnny Damon, who was an awful trader).
The deal actually only adds roughly $4.5 million to the Yankees' payroll next year (Warren was due roughly $1.5 million in arbitration and Rtan picked up his $1 million player option).
---
Monday, December 7, 2015
NASHVILLE, Tenn. — Brian Cashman has predicted it is more likely than not Andrew Miller and Brett Gardner remain Yankees.

But that does not mean he has reeled them in from the trade market.

The Astros, who tried to sign Miller last offseason, remain interested in the closer. The Yankees are said to be asking a big return to break up the strength of their team — the end game of Dellin Betances and Miller.

To obtain Miller for the final two months of 2014 and the playoffs, the Orioles had to trade starter Eduardo Rodriguez to the Red Sox. Miller has three years at a reasonable $27 million left on his contract, and proved last season he is capable of closing. So the Yankees will be looking for at least someone such as Rodriguez in return — a starter with a high ceiling and less than three years of service time.

As for Gardner, the Cubs and Yankees spoke about him earlier in the offseason, and there was not an immediate match.

Nevertheless, Gardner remains among the Cubs' Plan Bs in case they cannot retain free-agent center fielder Dexter Fowler.
The Yankees' biggest needs are starting pitching and second base right? It'll be interesting to see if the Yankees can shore up one or both of those areas by trading for something, since they don't seem to have the budget to sign anyone worth signing.
---
Friday, December 4, 2015
The White Sox had an interest in Yankees right-hander Ivan Nova and the A's Jesse Chavez last month, but with Oakland dealing the right-hander to Toronto, Chicago's interest in Nova hasn't spiked.

While the White Sox are hunting for a right-handed starter, they haven't been banging on the Yankees' door. That could change beginning Monday in Nashville, Tenn., when the Winter Meetings commence. The Yankees have held discussions with several teams about Nova, but at the moment clubs aren't fighting one another to acquire the right-hander, who will be 29 in January and coming off a disappointing 2015, when he was 6-11 with a 5.07 ERA in 17 starts following Tommy John surgery the year before.
I'm not opposed to the idea of trading Nova, but his value is about as low as it could possibly be right now. What exactly would you be getting for him at this point?
---
Tuesday, December 1, 2015
David Price has reached an agreement on a seven-year, $217 million deal with the Boston Red Sox, according to The Boston Globe, which cited a source.

The left-hander was 18-5 with an AL-leading 2.45 ERA last season with the Detroit Tigers and Toronto Blue Jays. He was second in the AL in pitching WAR at 6.0 in 2015.
Boston foolishly decided this offseason that having young impact players and highly-paid top of the market players was the way to go. Good luck with that losing strategy, Boston.
The Yankees believe that Ivan Nova is primed to enjoy a bounceback season as he regains his command following Tommy John surgery, and general manager Brian Cashman has said that he plans to tender the right-hander a contract for 2016.

Clubs must tender contracts to their arbitration-eligible players by 11:59 p.m. ET on Wednesday, and though Nova was disappointed by his performance in 17 starts after coming back from surgery, the Yankees expect his numbers to improve.
This was a surprisingly easy non-tender season for the Yankees. The only two guys you figure they wouldn't tender contracts to, Sergio Santos and Andrew Bailey, both left the team very early on in the offseason.
That left a series of no-brainers to go to arbitration with (Michael Pineda, Didi Gregorius, Adam Warren, Justin Wilson, Nathan Eovaldi and Dustin Ackley) and Ivan Nova.
Nova is an interesting case - he was pretty darn awful last season, but you don't just give up on guys like him. I suspect, though, that they'd prefer to trade him if possible. It's probably not possible at the moment, though, because of the whole "pitching terribly last year" thing. Who will start the season in the bullpen this year for the Yankees? Nova or Eovaldi?
When Yankees General Manager Brian Cashman was discussing Chris Young, his only free agent of any real consequence, at the general managers' meetings last month, he could not have been more complimentary.

He effusively praised Young's production as well as his clubhouse presence.

"And he looks like Denzel Washington," Cashman said. "I can't throw enough bouquets his way. He was a special guy and we'd like to have him back, but I have no idea."

Actually, Cashman did.

The next day, the Yankees traded for Aaron Hicks, giving them a crowded outfield — unless they are able to trade Brett Gardner for more starting pitching. Once the Yankees acquired Hicks, it became clear that as long as they had four outfielders, Young was headed elsewhere, no matter how many petals were laid at his feet.

On Monday, Young headed to Boston, which has agreed in principle to a multiyear deal, according to multiple reports. Fox Sports was among the first to report the agreement.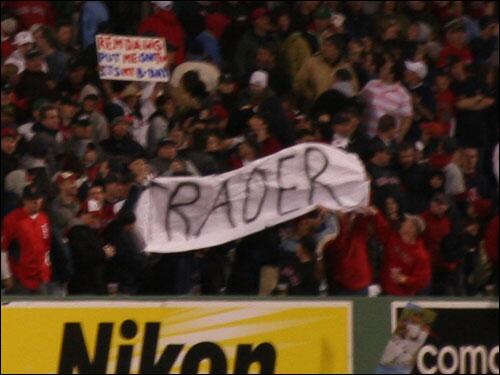 ---
Tuesday, November 24, 2015
President Barack Obama honored legends Yogi Berra and Willie Mays with the Presidential Medal of Freedom at the White House Tuesday.

Obama even dropped a Yogi-ism.

"One thing we know for sure," the president said, "if you can't imitate him, don't copy him."
Very nice job by the President. It's a shame that Yogi didn't live to receive the honor.
Yankees' catching prospect Gary Sanchez, as you may have heard, lit up the Arizona Fall League the past two months, socking seven home runs (league leader) and tallied 55 total bases.

And for those efforts, Sanchez earned the fourth slot on MLB.com's annual Top 20 prospect list.

Writes MLB.com's Jim Callis:

He earned a $3 million bonus out of the Dominican Republic in 2009 thanks to his power and his arm strength, and both were on display as he topped the Fall League in homers (seven), RBIs (21), extra-base hits (14), total bases (55) and catcher caught-stealing percentage (.615).

Knocked in the past for his lack of effort and indifference to catching, he played with passion and showed enough receiving ability to play behind the plate in the Majors.

Sanchez was part of the September call-up contingency for the Yankees this season (0-for-2 in his only at-bats) but may be on the fast track to the big leagues with last season's backup, John Ryan Murphy, traded two weeks ago to the Minnesota Twins.
I wouldn't be surprised if the Yankees pick up a veteran backup catcher type in case Sanchez isn't ready—someone like Dioner Navarro, Bryan Pena or Geovany Soto—but I think they are hoping that Sanchez is ready to backup Brian McCann this year and begin transitioning into the starting catcher by the end of McCann's contract in 2018.
---
Monday, November 23, 2015
Last week Andy Van Slyke made the news for, among other things, ripping Robinson Cano in a radio interview, claiming that he was lazy, loafed and ended up getting coaches fired in Seattle. There has been a ton of criticism of Van Slyke for saying that, and today John Harper in the Daily News offers several quotes from the Mariners' former third base coach, Rich Donnelly, defending Cano and his work ethic.

Buried deep in that story, however, is this bit:

So maybe Van Slyke is just so bitter about being fired that he needed someone to blame. But even if Cano has had the best intentions as a Mariner, one long-time friend who spoke to him recently says the second baseman is not happy in Seattle, especially with a new regime in charge there now, and that he'd love to somehow find his way back to New York

.
My first thought was that Cano slept in his bed so now he has to make it and I wouldn't take him back.
Upon further thought I decided to look at what was left in Cano's contract compared to a contract that is likely even worse than his.
A weighted average of Cano's bWAR from 2012-2015 pegs him around 5.8 in 2016. Assuming a 0.7 win decline per season over the remaining eight seasons of his contract ends up with him providing about 26.5 bWAR for $192M, a rate of $7.2M per bWAR.
A weighted average of this other contract I was thinking of puts that player at roughly 3.0 bWAR in 2016. Assuming the same rate of decline for that player over the five remaining seasons of his deal gives you 8.2 bWAR at a cost of $105M, a rate of $12.9M per bWAR.
Obviously, you'd rather pay $7.2M per win that $12.9M per win but the $87M difference in total remaining commitment is a pretty big risk. However if that were to be reduced by a certain amount with Seattle throwing in some money, would it make sense for the Yankees to at least kick the tires on a Cano for Ellsbury trade? Say, Cano plus $50M for Ellsbury?
On paper it makes sense, but the egos involved make me think it would never, ever happen.
Here's the problem with the Yankees trading left fielder Brett Gardner: Their only other athletic position players are shortstop Didi Gregorius and outfielders Jacoby Ellsbury and Aaron Hicks.

The Yankees need more such players, not less. But they also need controllable starting pitching, and if principal owner Hal Steinbrenner will not authorize an increase in spending, they might need to move Gardner and/or closer Andrew Miller to get it.

It's a classic rob-Peter-to-pay-Paul scenario.

Gardner batted only .206 with a .592 OPS after the All-Star break, but .302 with an .861 OPS before that. New hitting coach Alan Cockrell, who was with the team last season in an assistant's role, has acknowledged that playing through a wrist injury contributed to Gardner's slide.

As for Miller, trading him would diminish the Yankees' greatest strength — their bullpen. Such a move could be particularly unwise, considering that Dellin Betances has thrown more pitches than any reliever in the American League the past two seasons.

If such financially motivated measures seem to make little sense, the Yankees' failure to trade potential free-agent second baseman Robinson Cano at the non-waiver deadline in 2013 season remains utterly baffling.

The team essentially was out of contention at that point, and Cano already had rejected an extension offer in spring training, before switching agents from Scott Boras to Roc Nation. The Yankees surely knew that Cano wanted a monster deal, and that they did not want to give it to him.

Cano in a trade could have brought back premium young talent at a time when the Yankees were re-focusing on their farm system. Instead, the team lost Cano and Curtis Granderson and signed Ellsbury and Carlos Beltran in free agency, failing to gain even a draft pick in the process.

Two years later, the Yankees are working under self-imposed financial restrictions, restrictions that could cost them Gardner and/or Miller.
I'm already resigned to the fact that Gardner is gone, but it'd be pretty shady to sign Miller to a four year deal then trade him after one season. But I will try and reserve my snark to see where they are at the end of the offseason.
---
Friday, November 20, 2015
This is a match made in money. Always remember what 16-year-old Harper said about his career ambitions as a Sports Illustrated cover boy in 2009:

"Be in the Hall of Fame, definitely. Play in Yankee Stadium. Play in the pinstripes. Be considered the greatest baseball player who ever lived. I can't wait," he told the magazine.

I also vividly remember Harper ogling Yankees batting practice before a spring training game a few years ago. Every other member of the Nationals was off the field, except Harper. He kneeled on one knee and watched Yankee hitters intently until being summoned by GM Mike Rizzo, who essentially told Harper it wasn't nice to stare at others, especially when they play for the other team.

Can you see this guy packing up his trophies in two years and going anywhere except New York? Come on. That's a clown question, bro.

Get younger. Get a drawing card. Get a guy to build your team around for the next 10 years. Check, check, check.

Younger. That's a key concept when we talk about the Yankees, isn't it? Do you know that Harper, who turned 23 last month, is six months younger than stud outfield prospect Aaron Judge? Harper will be 26 when hits free agency.

I asked an executive recently who had a better chance of playing right field for the Yankees in 2019, Judge or Harper. The response I got was "Judge in left, Harper in right."
One can only hope, but I sure hope the Yankees aren't planning out the next five years on the assumption that Harper will definitely be a Yankee, because that would be stupid.
---
Thursday, November 19, 2015
DALLAS—This was progress, real measurable progress. In the end, that's what the 2015 season represented to the Yankees on so many levels. It wasn't just that they returned to the postseason, although that's the ultimate measuring stick. It was how they got there that was so impressive.

It was two rookies—right-hander Luis Severino and first baseman Greg Bird—making significant contributions when called upon. It was the progress that catcher Gary Sanchez, outfielder Aaron Judge, right-hander James Kaprielian and others made in the Minor Leagues.

It was the realization that the franchise finally is capable of being what managing general partner Hal Steinbrenner has envisioned them being: a roster not built largely around big-ticket free-agent signings.

"I feel better than I did two or three years ago," Steinbrenner said Wednesday during a break in a regularly scheduled quarterly Owners Meetings. "It was frustrating. It's frustrating to have all the injuries we had two years in a row and not have anybody that's capable of coming up and filling the void.

"We've been saying these names to our fans for two or three years now. We've been showing video highlights of [Double-A] Trenton and [Triple-A Scranton/Wilkes-Barre], what they accomplished and what they do. Hopefully, people are getting excited about them."

Steinbrenner will not apologize for his team's wealth. He emphasized that the Yankees will continue to spend on big-ticket free agents when it's needed. But Steinbrenner has never seen it as the best way to do business. His ultimate goal is to get the Yanks under baseball's $189 million luxury-tax threshold.

"All I know is what I've said before," Steinbrenner said. "I shouldn't have to have a $200 million payroll to win a world championship. It's been proven over and over again. The last couple of years, the money that has come off [the books], we've had to put it back in to fill voids because we haven't had the young players to do it with."
For those dreaming of David Price or Jason Heyward, you can go ahead and stop.
---
Tuesday, November 17, 2015
1. Stephen Strasburg
Oh, he's an ace, alright. Probably. He comes with risks (Tommy John history, a lousy 2015 season, Scott Boras), but if you're going to pay for talent, it helps if the pitcher has talent. Strasburg has talent. He practically leaks talent. Uh, anyone want to get some rags and help us out with this talent? It's sort of getting everywhere.

But, yes, Strasburg has the potential to lead a rotation. Most definitely. Don't forget just how awe-inspiring he can be at his best.

2. C.J. Wilson
He used to be okay! He'll be 36, but I could see a team giving him a two- or three-year deal.

Wilson might be the second-best pitcher on the 2016-2017 free agent market.

3. Jered Weaver
Wait, he throws 83 miles per hour.

4. R.A. Dickey
Wait, he's 83 years old.

5. Andrew Cashner
So much untapped talent that doesn't have to show up just because you want it to. The Gil Meche of a new generation.

6. Jesse Chavez
Perfectly acceptable, for the most part, kind of.

7. Brett Anderson
Solid pitcher, but he just accepted the qualifying offer because he correctly figured that teams wouldn't want to give up a draft pick for him.

8. Ivan Nova
Power sinker when right, but he's been hurt or bad for two years now

9. Jake Peavy
The last time he threw more than six innings in a start was 2007. Hold on, I should look that up, but I'm pretty sure ...

10. Jorge De La Rosa
He's like the Jorge De La Rosa of pitchers.

Thus endeth the list of the top 10 pitchers available in next year's free agent market.
The Yankees didn't clear much payroll this offseason, which may tempt them to wait until next season when Mark Teixeira and Carlos Beltran come off the books.
But waiting may not be a good idea.
---
Monday, November 16, 2015
So as they plan for 2016, the Yankees must wonder again: How much can they reasonably expect from their aging middle-of-the-lineup guys? And what should or can they do to avoid an overreliance on a duplication of that surprising production?

"I'm going to try to upgrade our roster and not worry about regression on certain guys," Yankees general manager Brian Cashman said last week at the General Managers' Meetings. "If that's a possibility, it's a possibility."

Oh, it's a possibility, all right. Teixeira put up 4 ¹/₂ superb months, slashing .255/.357/.548 with 31 homers in 111 games — his best production in three years, at least — before going down with a right shin fracture. He now has failed to play in more than 123 games since the 2011 season.
I'm fairly certain Cashman understands about regression and the likelihood of Teixeira and Rodriguez being less productive next year, but it doesn't serve him any purpose to talk about it in public.
As luck would have it, the Yankees could have replacements in hand for both should they get injured assuming they'll have someone to put in RF so they can slide Carlos Beltran to DH and with Greg Bird around. Health's only part of the risk of regression with both Teixeira and Rodriguez, but it's probably the biggest one.
---
Friday, November 13, 2015
1. Aaron Hicks, John Ryan Murphy trade

New York and the Minnesota Twins swapped players on Wednesday, the Yankees absorbing outfielder Aaron Hicks while shipping out backup catcher John Ryan Murphy. Murphy probably wasn't going to ever start in New York, and it seems likely now that Hicks will replace Yanks' outfielder Chris Young, who became a free agent after '15.

Thoroughly judging the trade is impossible now, but it appears Hicks, a former first-round draft pick, is at least on the upswing.

2. Brett Gardner to be traded?
...
3. Jose Pirela gone
...
4. Will Andrew Miller still be Yankees' closer?
...
5. Greg Bird: See you in 2017?
...
1) I was a bit surprised by the Hicks/Murphy trade, although the return seems fair. I'm not sure you want Hicks as a full-time starting outfielder, but I'm not sure you want Murphy as a full-time starting catcher either.
I'm more surprised by the fact that the Yankees have put themselves in a position where a Brian McCann injury would now make Gary Sanchez their starting catcher and I'm not sure that's really smart. But time will tell.
2) I hope not. But I expect him to be.
3) He will be missed. This was more of a 40 man roster cleaning up for a player who likely wasn't going to have much of a role on the Yankees. It seemed they were grooming Pirela to be a super-sub type player, and they now seemingly have Dustin Ackley for that role instead.
4) Yes.
5) Bold prediction. Greg Bird will get a PA in MLB in 2016.
---
Thursday, November 12, 2015
BOCA RATON, Fla. − In an ideal world, the Yankees would love to add a lefthanded starting pitcher that has had success in the American League.

Yes, David Price fits that description, but there's a lesser-known name on the free-agent market that also fits the bill: Wei-Yin Chen.

According to a source, the Yankees could make a serious run at Chen, who has pitched for the Orioles the past four seasons. The 30-year-old is 46-32 with a 3.72 ERA since coming to the majors, including an 11-8 record and 3.34 ERA in 31 starts last season.

"A lot of teams are going to be in on him," the source said. "But the Yankees are going to be one of them."

Since Andy Pettitte retired after the 2013 season, CC Sabathia has been the lone lefthander in the Yankees' regular rotation. Sabathia, Masahiro Tanaka, Ivan Nova, Michael Pineda and Nathan Eovaldi can all be free agents by the end of the 2017 season, leaving Luis Severino and Adam Warren as the only big-league starters under control in 2018 and beyond.

According to a source familiar with the situation, Chen is seeking a deal of at least five years, though six isn't out of the question given the need for pitching around the league.
I think Chen would be a nice pickup, but not at the cost of a draft pick, and certainly not on a contract of five or six years.
---
Wednesday, November 11, 2015
BOCA RATON, Fla. — To further exemplify Brian Cashman's mantra that he is open to talking about any player on his roster, the Yankees have discussed Brett Gardner with the Mariners, The Post has learned.

No trade discussions were characterized as far along or specifically targeted to just one team. Nevertheless, Gardner has long been a player whom new Seattle general manager Jerry Dipoto has liked going back to his time as an executive with the Diamondbacks and Angels. The Mariners, in fact, as part of the six-player trade done last week with Tampa, obtained center field prospect Boog Powell, who is commonly compared to Gardner in projecting his future.

Powell, though, is not expected to be ready to open the 2016 season and the Mariners are in win-now mode. They have identified as a priority adding on-base skills in front of a lineup middle of Robinson Cano, Nelson Cruz and Kyle Seager. Only two of the 11 Mariners who came to the plate at least 200 times last year had a better on-base percentage than Gardner's .343.

The Yankees are particularly looking for high-end starting pitching that they control for seven years because all of their current starters, except Luis Severino and Adam Warren, can be free agents after either the 2016 or 2017 campaign. The Mariners essentially will not talk about Taijuan Walker. But The Post has learned they would discuss 27-year-old lefty James Paxton, whose delivery has reminded folks of Andy Pettitte. Paxton was among the pitchers the Yankees were looking at more intensely late in the season and now in the Arizona Fall League under the belief they could become available in the offseason.
Hey, if his delivery reminds folks of Andy Pettitte he should be just as good, right?
I think it's a question of when Gardner is traded and what the return is, rather than if. And I do find that disappointing, but I also don't see how the Yankees can't put a better team out there in 2016 without trading some position players and giving themselves more flexibility to upgrade.
I don't suppose the Mariners would rather have Smellsbury?
---
Monday, November 9, 2015
American League shortstop may be where this year's biggest Gold Glove snub lies, but the snub wasn't made by the selection committee. Instead, the snub was made by the rules for qualification. Cleveland's Francisco Lindor, whose +8 tDEF grade would have made him the clear favorite, far surpassed the 690-inning minimum set by Rawlings to be eligible for the award. However, the qualifications also specify that a player must have met that inning requirement within his team's first 137 games, and Lindor fell short of that requirement by 35 innings.

Had Lindor been called up four games sooner, he'd be the favorite to win his first of many Gold Gloves in the AL. Instead, our most deserving candidate becomes Gregorius, who lived up to his reputation as a plus defender in his first full season as an everyday shortstop. The ability to make a cross-body throw on the run with the sort of zip on it like the one shown above is decidedly remarkable.
Gregorius keeping the line moving with the Yankees' recent history of Gold Glove defense? Sweet!
---
Sunday, November 8, 2015
The Yankees sound ready to deal.

Yankees general manager Brian Cashman said he's "open to anything," according to a report from Fox Sports' Ken Rosenthal.

While the report said that Cashman doesn't anticipate trading any of his three top youngsters — starting pitcher Luis Severino, right fielder Aaron Judge and first baseman Greg Bird — the longtime GM sounded like he expects everything to be on the table this season.

"I'm not afraid," Cashman said, according to the report.
They probably should be, although I'd obviously prefer if the guys who end up getting dealt are guys over 30. They don't have many ways to upgrade their lineup without trading some pieces.
---
Thursday, November 5, 2015
In a conference call late this morning, new Yankees hitting coach Alan Cockrell revealed Brett Gardner played almost the entire season with a wrist injury. Cockrell didn't know the exact date that the problem started, but he said it started with a hit by pitch very early in the season (he thought it was maybe in Tampa Bay).

Just looking through Gardner's season, it seems April 13 is probably the date in question. That was the Baltimore game when Stephen Drew hit a grand slam off the bench. Gardner was hit in the right wrist very near a spot where he'd been hit in the opening home stand. He was sent for X-rays, which were negative, but he still missed the next two games. Cockrell might have Tampa in his mind because Tampa was the next stop, and that's where Gardner returned to the lineup while presumably still getting significant treatment.

"I know that that bothered him off and on the entire year," Cockrell said.
When I first heard this, I thought it sounded like total baloney. Just a Yankee employee trying to make excuses. However, there was a fascinating wrinkle that I didn't realize. Players are allowed three cortisone shots per season. Gardner used his last one up at the end of July. So, with that in mind, it suddenly actually sounds kind of believable. Why even run the guy out there, then, though? What the heck? Just put him on the DL!!
The New York Yankees announced seven roster moves on Wednesday, including the news that RHP Andrew Bailey has elected free agency in lieu of accepting an outright assignment to the minors.
The team also sold the contract of RHP Chris Martin to the Hokkaido Nippon-Ham Fighters of the Japanese Pacific League for $750,000, added RHP Vicente Campos to the 40-man roster, and officially reinstated four players - RHP Domingo German, LHP Jacob Lindgren, RHP Chase Whitley and OF Mason Williams - from the 60-day disabled list.

The moves leave the Yankees' current 40-man roster at 39 players.
Bailey is still not technically a free agent, he'll just be subject to arbitration now. That would be dependent on the Yankees tendering him a contract, which they are not certain to do.
In other exciting news, the Yankees confirm that Brendan Ryan has exercised his part of a mutual option which would bring him back in 2016. It's for $1M if the Yankees decline their part of the option, and $2M if they don't. And if they don't, they are paying $1M more than they need to be so I'm not exactly sure why they wouldn't.
At that price tag, Ryan is not a real problem. He'll either be a backup infielder or he'll be somewhere else.
---
Tuesday, November 3, 2015
The Yankees will replace departed hitting coach Jeff Pentland with Alan Cockrell and promote Marcus Thames to the big league staff.

As previously reported by The Post, the Yankees announced Monday that Cockrell will move from assistant hitting coach to the top job, and Thames will be elevated from Triple-A to the big leagues.

It's the second time the Yankees have stayed within to fill a high-profile job. When assistant GM Billy Eppler left to become the Angels general manager, Yankees GM Brian Cashman promoted professional scout Tim Naehring, though he will receive a different title.

The Yankees have been impressed with Thames, who has worked in their minor league system for three years. He was also drawing interest from other big league clubs.
Is there really much to say about this?
---
Monday, November 2, 2015
The Royals knew the only way to salve their regret was to win the World Series, and Sunday night at Citi Field, they accomplished that in a very Royal-like manner, with a come-from-behind 7-2 victory in 12 innings over the Mets. The victory, their fourth in five games, gave them their first championship since 1985.

The Royals survived a superb performance by the Mets' Matt Harvey, scoring twice in the ninth inning to tie the score at 2-2 and breaking through to score five times in the 12th against relievers Addison Reed and Bartolo Colon.
With the way Harvey was throwing, I turned the game off after the top of the eighth and figured there'd be a Game Six on Tuesday. Oops.
Congratulations to the Royals and their fans. Apparently Dayton Moore actually does know what he's doing.
---
Thursday, October 29, 2015
The man who replaced the man who replaced Mariano Rivera now has the award named after baseball's greatest closer.

Andrew Miller, who was signed to replace David Robertson, was named the Mariano Rivera Award winner, which goes to the best reliever in the American League.

Miller received the award from Rivera prior to Game 2 of the World Series in Kansas City. Miller, whom the Yankees signed to a four-year, $36 million last winter, saved 36 games in 38 chances. He was 3-2 with a 2.06 ERA.

While he won the award, it could be argued he wasn't the New York Yankees' best reliever with Dellin Betances dominating in setup duties for most of the season. Betances finished with a 1.50 ERA. He struck out 131 batters to Miller's 100. Betances walked 40 to Miller's 20. Miller threw 61 2/3 innings to Betances' major-league-reliever high of 84.
I am guessing the formula is heavily based on saves. Miller had a great season, but Betances was worth almost four wins according to Baseball Reference which is unreal for a relief pitcher.
I never expected Betances to pitch as well as he did in 2014 in 2015, and while his peripherals were a bit worse he was still fantastic, even though he seemed a bit less than fantastic down the stretch.
Let's hope for a repeat out of both of them in 2016.
---
Tuesday, October 27, 2015
KANSAS CITY, Mo. — Their lives after the Yankees aren't yet measured in decades, but judging by the intoxicating success Dave Eiland and Kevin Long have enjoyed outside The Bronx, it's been very satisfying.

The friends and coaches who played big parts in the Yankees winning the 2009 World Series will meet in the World Series, when Eiland's Royals pitchers attempt to muzzle Daniel Murphy and the Mets as Long's hitters try to find a way to dent the Royals' nuclear bullpen.

Game 1 is Tuesday night at Kauffman Stadium.

It's not the first time Eiland and Long have been in different dugouts: Eiland has been the Royals' pitching coach for four years and Long was the Yankees' hitting coach until last season. They both have a 2009 World Series ring, but only one is going to have two.
Coaches tend to get a disproportionate amount of credit or blame in my opinion, but firing them at least allows teams to give the illusion of being proactive and fixing a perceived problem.
---
Friday, October 23, 2015
After roughly 1642 words about the Mets, the Yankees get the following 40 words.
The Yankees are interested in a right-handed bat, middle-relief help and perhaps one starter. Jeff Samardzija could be that guy, though apparently not Price, Johnny Cueto or Greinke. They aren't high at the moment on $200 million deals for pitchers.
They may as well not sign any pitcher if Samardzija is who they want.
---
Tuesday, October 20, 2015
Masahiro Tanaka went under the knife Tuesday, but not for the surgery so many have predicted and feared.

The Yankees right-hander underwent arthroscopic surgery to remove a pre-existing bone spur from his right elbow, the team announced. Tanaka has been pitching with a partial tear in the ulnar collateral ligament in his elbow, an injury most experts believed would need Tommy John surgery eventually.

The injury dates back to his pitching career in Japan, according to the Yankees, who expect him to be ready for the start of spring training. The expected recovery time is six weeks.
Since he had this bone spur for a few years now, obviously it could not have had THAT much effect on his pitching, but you also have to figure that it can only be a good thing to have a bone spur removed, and it possibly could set him up for even better performance next year. The article features a tweet from Chris Archer giving Tanaka props for being able to pitch through the bone spur.
Tip of the hat to Discofever for the link.
On Sunday, it was revealed that Yankees' slugger Alex Rodriguez would serve as a postseason baseball analyst for FOX. (Apparently to celebrate, he broke a TV screen with a football on a national broadcast.)

A-Rod debuted Monday in his new role before Game 3 of the American League Championship Series between the Kansas City Royals and Toronto Blue Jays.

How'd he do?

The reviews, if judged by Twitter (and what isn't?), were high. Rodriguez's knowledge of baseball—especially his ability to notice the little things that escape others—showed on the telecast as he broke down both teams' players and their tendencies.
---
Sunday, October 18, 2015
For the second consecutive year, the New York Yankees have determined that a hitting coach was the cause of their offensive woes.

According to a story in Sunday's New York Post, the Yankees have parted ways with Jeff Pentland, who was let go after one season despite marked improvements by the club in home runs and runs scored, and a return to postseason play for the first time since 2012.

Ironically, the hitting coach Pentland replaced, Kevin Long, is now working for the New York Mets, who are three victories away from the World Series.

The dismissal of Pentland, 69, comes as something of a surprise since the 2015 Yankees hit 65 more home runs (212 as opposed to 147), scored 131 more runs (764-633) and also posted a higher batting average (.251-.245) and on-base percentage (.323-.307) than the 2014 Yankees. Only three teams in baseball hit more home runs than the Yankees, and only one, the Toronto Blue Jays, scored more runs.
As I said on the last thread, I think Pentland was always a fill-in candidate. He is even quoted as saying he was told it was probably going to be a one-year deal. I think that the Yankees either wanted to sign Raul Ibanez but he didn't want to go right into coaching or they wanted to give Marcus Thames an extra year of seasoning (he's been promoted to each higher level of the Yankee minors as hitting coach from 2013-2015, from Single A to Triple A last year, so I guess the Majors are next).
Considered the top hitting prospect in the Yankees' system, Judge got a ton of attention in spring training, even with no chance of making the big league roster out of camp. He predictably went to Double-A where he hit .284/.350/.516 with 12 home runs in 63 games. Bumped up to Triple-A, Judge seemed to be finally challenged by minor league pitching. He hit .224/.308/.373 with three home runs in 61 games with Scranton/Wilkes-Barre.

A few possibilities for next season:
Not much else to talk about, Yankee-wise, so I figure we might as well discuss Aaron Judge, since Chad Jennings wrote an article on the Yankee prospect.
Jennings lists three options for how the Yankees should handle Judge next season:
1. Call him up, see if he can't find a role on the team in pinch-hitting opportunities/rest for starters
2. Leave him in Triple A and see what happens
3. Trade him
I am a proponent of #2. What do you folks think?
---
Friday, October 16, 2015
How it Is
Why you think your team won in the playoffs: We were built smarter, run smarter, played smarter and we're all better looking than everyone else and have larger pensises
Why your team actually won in the playoffs: Shit broke the right way for you
Why you think your team lost in the playoffs: FUCKING STUPID MOTHERFUCKERS CAN'T FUCKING PLAY THIS GAME THEY DON'T HAVE THE RIGHT STUFF FIRE EVERYONE
Why your team actually lost in the playoffs: Shit broke the wrong way for you
---
Thursday, October 15, 2015
The Yankees held two picks in the 2015 major league draft last June, choosing 16th and 30th overall, selecting two collegiate prospects from southern California.

New York took UCLA right-handed pitcher James Kaprielian at No. 16 and University of San Diego shortstop Kyle Holder at No. 30, signing both this past summer.

Each player saw time in the Yankees' organization in the past few months, wetting their feet before heading into the off-season.

Here's a look at how each performed:
Kaprielian didn't throw many innings, but seemed to hold his own. Holder got 224 at bats and did the opposite of holding his own.
---
Tuesday, October 13, 2015
Ben Lindbergh, writing for Grantland, discusses a "Bullpen Management Above Random" statistic, to see which managers were best in baseball at managing their bullpen, and Joe Girardi has continually ranked near the top in this stat.
Matheny — who told USA Today's Ted Berg in April that he uses three-year statistical stats as a "tiebreaker" when making bullpen moves but believes that managers "first and foremost have to trust our gut" — ranks at the bottom over a multiyear sample as well as in 2015. Mets manager Terry Collins and Toronto's Gibbons, who made the perplexing decision to use David Price in low-leverage relief in Monday's Game 4, aren't far behind. But Girardi is BMAR's golden boy.

Girardi is already regarded as a bullpen whisperer; BMAR just clinches the case. In April 2014, Fox Sports reporter Ken Rosenthal passed on the praise of a "rival AL exec" who'd told him that Girardi was "the best [he'd] seen at managing a bullpen." The BBWAA is onboard: Girardi (who won the NL Manager of the Year Award in 2006) hasn't finished lower than sixth in AL MotY voting since 2008, even though his high-payroll teams have missed the playoffs twice. After eight seasons in the country's largest media market, Girardi's bullpen use still gets a seal of approval from both bloggers and tabloid beat writers, two tough-to-please constituencies. It's even more impressive that Girardi leads in BMAR given his reluctance to use relievers three days in a row, which limits his options in some high-leverage situations: This season, the Yankees ranked 29th in reliever appearances on zero days' rest, but they also ranked first in multi-inning outings. For what it's worth, the Yankees have exceeded their Pythagorean win-loss record by an average of two games per season during Girardi's years at the helm, as have the Angels during Scioscia's 16 years in Anaheim. Bochy's teams have exceeded their Pythagorean records by an average of one win during his 21 seasons.
I will admit that there were a number of times where I was puzzled at some of Girardi's decisions this year, but I also think that he got way more complaints than he deserved, as the Yankees' bullpens have always done very well under him, even when he lost Mariano Rivera and suddenly Rafael Soriano became Mo-esque out of nowhere. It is nice to see a statistic that backs up his strong performance.
---
Sunday, October 11, 2015
What happened to Brett Gardner?

The first half saw the speedy left fielder make it to his first All-Star Game, one of the primary reasons for the Yankees' surprising ascent to the top of the American League East.

The second half? That was another story.

Following the Yankees' 21-5 win in Texas on July 28, the Yankees were 57-42 and held a seven-game lead in the American League East.

Gardner – one of three Yankees All-Stars this season – was having a stellar season, hitting .297 with an .850 OPS, 72 runs, 11 home runs, 46 RBI and 15 stolen bases in 93 games.

There was plenty of blame to go around for the Yankees' late-season struggles, from Alex Rodriguez's horrific August and September to the crippling injuries to Mark Teixeira and Nathan Eovaldi.

But none stood out as much as Gardner, who hit .196 with a .561 OPS, five homers, 20 RBI and five stolen bases in 58 games from July 29 through the end of the regular season.
Gardner was brutally bad in the second half, although I wouldn't blame him singularly for the Yankees blowing a seven game division lead over two months. But he sure didn't help.
Gardner was probably the second most valuable position player on the team overall, even with that abysmal second half. So why trade him? Because he's one of the few position players that may have positive trade value and who does not have a no-trade clause. You couldn't give away the albatross known as the five remaining seasons of Jacoby Ellsbury right now. I don't know if Chase Headley has a no-trade clause, but he's not exactly someone teams would be lining up to get right now either. I'm fairly certain Brian McCann has a no-trade clause and minimal trade value.
I wouldn't trade Gardner because his value is probably at a relative low right now, but it makes baseball sense to at least see what's out there. While it's tempting to think they could then open a spot for a free agent signing, they could also cobble together a platoon of Chris Young and Slade Heathcott/Mason Williams instead.
I'll be disappointed if the Yankees do end up trading him, but he's probably already peaked and his value to the Yankees as a player or a trade chip is likely only going to go down from here.
But wouldn't it be awesome if they could trick someone into trading for Ellsbury instead?
---
Tuesday, October 6, 2015
Dallas Keuchel continued his season-long mastery of the Yankees with six more scoreless innings, Colby Rasmus and Carlos Gomez homered off Masahiro Tanaka, and the Astros advanced to the American League Division Series with a 3-0 victory on Tuesday night at Yankee Stadium.

With the victory in the AL Wild Card Game presented by Budweiser, the Astros move on to face the Royals in the best-of-five ALDS, which begins on Thursday night in Kansas City (Fox Sports 1). The Yankees' first postseason appearance in three years was brief, due in large part to Keuchel, who limited them to three hits in a seven-strikeout performance, pitching on three days' rest for the first time in his pro career.
When I think back upon this game, I think of that line from Bob Dylan's "Lily, Rosemary and the Jack of Hearts." You really couldn't say any of us were surprised by this, right? John Sterling and Suzyn Waldman talk about not being able to predict baseball (well, Sterling does, at least. Waldman just sort of goes along with it), and that's technically true, but at the same time, you can pretty reasonably guess how things are LIKELY to go, and the most likely scenario was that the dominant lefthanded pitcher, Dallas Keuchel, who had not given up a hit against the Yankees in sixteen innings this year, would continue to do well against them, particularly as they have struggled mightily against all lefthanded pitching recently, let alone someone like Keuchel, who will either be winning the Cy Young this year or will be coming in second place. So no, it was not surprising.
It was not similarly not surprising that Masahiro Tanaka pitched well, but not, like, exceptionally well. Still, two solo shots in five innings is fair enough. Can't really blame Tanaka. Dellin Betances had an awful seventh inning, but when the team couldn't even score a single run, it's hard to knock him too much for giving up a single run.
Well, the season is over, not with a bang but with a whimper. Next year does not necessarily look to be any better than this one, but, well, this one was better than we expected, right? So hope springs eternal for next season. Maybe 5/9th of the lineup won't go into months-long slumps all at the same time again next year.
Astros: Dallas Keuchel (L) (232 IP, 2.48 ERA, 2.91 FIP, 7.2 bWAR) vs. Yankees: Masahiro Tanaka (R) (154 IP, 3.51 ERA, 3.98 FIP, 3.1 bWAR)
Lineups
Astros
1. Jose Altuve (R) 2B: (.313/.353/.459), 4.5 bWAR
2. George Springer (R) RF: (.276/.367/.459), 3.8 bWAR
3. Carlos Correa (R) SS: (.279/.345/.512), 4.1 bWAR
4. Colby Rasmus (L) LF: (.238/.314/.475), 2.6 bWAR
5. Evan Gattis (R) DH: (.246/.285/.463), 0.5 bWAR
6. Carlos Gomez (R) CF: (.255/.314/.409), 2.3 bWAR
7. Luis Valbuena (L) 3B: (.224/.310/.438), 2.1 bWAR
8. Chris Carter (R) 1B: (.199/.307/.427), -0.1 bWAR
9. Jason Castro (L) C: (.211/.283/.365), 1.3 bWAR
Total Lineup bWAR: 21.1
Yankees:
1. Brett Gardner (L) CF: (.259/.343/.399), 3.3 bWAR
2. Chris Young (R) LF: (.252/.320/.453), 1.1 bWAR
3. Carlos Beltran (S) RF: (.276/.337/.471), 0.9 bWAR
4. Alex Rodriguez (R) DH: (.250/.356/.486), 3.0 bWAR
5. Brian McCann (L) C: (.232/.320/.437), 2.7 bWAR
6. Chase Headley (S) 3B: (.259/.324/.369), 1.1 bWAR
7. Greg Bird (L) 1B: (.261/.343/.529), 0.9 bWAR
8. Rob Refsnyder (R) 2B: (.302/.340/.512), 0.3 bWAR
9. Didi Gregorius (L) SS: (.265/.318/.370), 3.3 bWAR
Total Lineup bWAR: 16.6
If the Yankees are going to advance to the playoffs, they'll have to get past the most effective pitcher in the American League in 2015. Keuchel should win the Cy Young this year, and he has killed left-handed batters this year which is why the Yankees have benched Jacoby Ellsbury and are playing Rob Refsnyder instead of Dustin Ackley.
Keuchel is going on three days rest, but I don't think that's going to be a big deal. The main thing we can hope for is that Masahiro Tanaka can match zeros with Keuchel and the Yankees can get a run off the Astros' bullpen, which may not be all that easy either since they have some pretty solid relievers as well.
I didn't think the Yankees would be here, so I guess I'm happy about that. But I'll be happier if they can pull off the impossible and beat Keuchel.
# PITCHERS (9)

68 Betances, Dellin
48 Miller, Andrew
55 Mitchell, Bryan
47 Nova, Ivan
67 Pazos, James
40 Severino, Luis
19 Tanaka, Masahiro
43 Warren, Adam
41 Wilson, Justin

# CATCHERS (3)
34 McCann, Brian
66 Murphy, John Ryan
73 Sanchez, Gary

# INFIELDERS (7)
29 Ackley, Dustin
31 Bird, Greg
18 Gregorius, Didi
12 Headley, Chase
64 Refsnyder, Rob
13 Rodriguez, Alex
17 Ryan, Brendan

# OUTFIELDERS (6)
36 Beltran, Carlos
22 Ellsbury, Jacoby
11 Gardner, Brett
72 Heathcott, Slade
70 Noel, Rico
24 Young, Chris
Pretty weird seeing a deep and versatile bench. Oh what the seven man bullpen has wrought.
"His drinking got really bad this weekend, and it put him in a really bad place," said a source close to the team.

"He was afraid. He felt that if I don't do this now and go into rehab, I don't know what is going to happen."

The last straw for Sabathia came during the team's final regular-season series in Baltimore, where he spent most of his time pounding drinks at a hotel, the source said.
Sabathia, 35, arrived there with his teammates late Thursday after his home victory against the Red Sox clinched a playoff spot for the Yankees.

By Friday, the pitcher looked "out of it" as the team waited around Baltimore's Camden Yards to play a game that was eventually rained out.

"He drank every day last week apart from the day he pitched," the source said. "The tipping point was Friday when he was at the stadium. He carried on drinking Saturday."
CC is about the last player I'd have expected to have a drinking problem, but I'm glad to see him trying to combat it. It's not likely it will impact his team that much since I would give them maybe a 20% chance of advancing past tonight's game anyway. I don't think the drinking is the cause of CC's decline from effectiveness. I think the drinking is likely because of his decline.
I am not going to be policing comments and banning people, so I'll just ask that this since this is an emotional topic let's try to be respectful to each other and to differing viewpoints. For those who have shared or may share related personal stories, thank you for your honesty and openness.
---
Monday, October 5, 2015
Yankees left-hander CC Sabathia has checked into an alcohol rehab center, the team announced. He will not be available to pitch in the postseason.

Here is Sabathia's statement:

"Today I am checking myself into an alcohol rehabilitation center to receive the professional care and assistance needed to treat my disease.

"I love baseball and I love my teammates like brothers, and I am also fully aware that I am leaving at a time when we should all be coming together for one last push toward the World Series. It hurts me deeply to do this now, but I owe it to myself and to my family to get myself right. I want to take control of my disease, and I want to be a better man, father and player.

"I want to thank the New York Yankees organization for their encouragement and understanding. Their support gives me great strength and has allowed me to move forward with this decision with a clear mind.

"As difficult as this decision is to share publicly, I don't want to run and hide. But for now please respect my family's need for privacy as we work through this challenge together.

"Being an adult means being accountable. Being a baseball player means that others look up to you. I want my kids—and others who may have become fans of mine over the years—to know that I am not too big of a man to ask for help. I want to hold my head up high, have a full heart and be the type of person again that I can be proud of. And that's exactly what I am going to do.

"I am looking forward to being out on the field with my team next season playing the game that brings me so much happiness."

The timing is unfortunate for the Yankees, but this situation is much bigger than baseball. Sabathia clearly has a problem and realizes he needs help right away. It takes a lot of courage to admit that. Good for him.
Hopefully Sabathia can get through this.
BALTIMORE — The Yankees are calling it a fresh start and, boy, that sure sounds nice, right? The slate is clean, the scoreboard turned back to all zeroes, and hope is fresh for the start of the postseason on Tuesday when they face the Astros in the American League wild-card game at the Stadium.

Maybe the Yanks' recent stretch of awful play was just one of those bad streaks that every team endures during the long, 162-game slog of a season. They don't have to dwell on it any longer, because they've got this new beginning and that's something they must cling to after a rough week.

"Everything is erased," is how Joe Girardi put it.

Convenient rhetoric or a real-live second chance? Maybe our real answer comes when they take on the tall task of Houston ace Dallas Keuchel and his young, talented teammates.

Because however the Yankees looked as they dropped six of their final seven games − tired is one adjective that springs to mind − they have a chance to prove that they are something more than the club that's looked so dreadful for a week.

Maybe that week really was a window into what kind of team they are now after six months of play. But they can change the conversation by pounding Keuchel, keeping the Astros in the ballpark − good luck, they tied the Blue Jays for the most homers in the majors with 230 − and advancing to a division series date with the Royals.
If I had an AL Cy Young vote, it'd be Keuchel in a runaway. But I don't.
Anyway, Keuchel has faced the Yankees twice in 2015 and has held them to a line of .161/.175/.179 which I think is roughly what Jacoby Ellsbury hit this season. In 16 scoreless innings against the Yankees, Keuchel has allowed nine hits, walked one and struck out 21. In 2015 he's held left-handed hitters to a line of .177/.201/.260 with a strikeout to walk ratio of 8.33 compared to a line of .227/.277/.328 and a strikeout to walk ratio of 3.69 vs. right-handed hitters. That's not good news for a Yankee team whose primarily starting lineup may have as many as six left-handed batters in it if Joe Girardi decides to start Dustin Ackley at 2B along with Ellsbury, Brett Gardner, Brian McCann, Greg Bird and Didi Gregorius. He may opt to go with Brendan Ryan for the 'platoon advantage' ignoring the fact that it's not an advantage if the player you're using to gain the advantage couldn't hit water if he fell off of a boat. The odds of Girardi playing Robert Refsnyder are roughly the same as the odds of Ugly Johnny Dickshot becoming a Chase Headley fan.
Granted, Keuchel will be starting on three days' rest, something he's never done in his career (although he did start once on two days rest after an 11 pitch relief outing in 2013 and did pretty well).
If I were a betting man, I'd bet pretty much everything I own that the Yankees will not score against Keuchel. That doesn't mean they can't win tomorrow, but it sure does make it harder.
We'll see what happens.
---
Sunday, October 4, 2015
BALTIMORE—The Yankees secured home-field advantage against the Astros in Tuesday night's American League Wild Card Game presented by Budweiser at Yankee Stadium.

They did so despite losing, 9-4, to the Orioles on Sunday at Camden Yards because the Astros also dropped a 5-3 decision to the D-backs in Phoenix.
Rough end to the regular season, but everything starts from scratch on Tuesday.
Yankees: Michael Pineda (R) (157 IP, 4.24 ERA, 3.41 FIP, 2.0 bWAR) vs. Orioles: Chris Tillman (R) (167.2 IP, 5.05 ERA, 4.48 FIP, 0.6 bWAR)
This game will determine if the Yankees will be embarrassed by Dallas Keuchel in Houston or in New York.
Normally I'd suggest ignoring this game and watching some NFL, but I'd be telling a bunch of "New York" Giants fans to watch their team get waxed by New York's only actual NFL team, so I won't. I guess watch this instead if you must.
---
Saturday, October 3, 2015
If the Yankees are going to clinch home-field advantage in Tuesday's American League Wild Card Game presented by Budweiser, it may have to wait until the final day of the regular season on Sunday.

The Yanks lost both ends of Saturday's split day-night doubleheader to the Orioles, dropping the nightcap, 4-3, when reliever Dellin Betances tossed a wild pitch in the eighth inning that scored Paul Janish with the winning run. Betances had come on to relieve Luis Severino, who threw seven innings of five-hit ball, but allowed Baltimore's first three runs.
Pretty tough loss in the second game.
Okay, so here are the possible scenarios for tomorrow.
First off, if the Royals lose and the Blue Jays win, the Blue Jays play the winner of the Play-In Game.
If they both lose, the Royals play the winner of the Play-in Game.
If they both win, the Royals play the winner of the Play-in Game.
Now for the other stuff…
1. Yankees win, Astros win, Angels win
The Yankees host the winner of a one-game playoff between the Astros and Rangers to determine the winner of the AL West.
2. Yankees lose, Astros win, Angels win
I think the Yankees still host the winner of a one-game playoff between the Astros and Rangers to determine the winner of the AL West.
3. Yankees win, Astros win, Angels lose.
The Yankees host the Astros in the Play-In Game. The Rangers win the AL West.
4. Yankees lose, Astros win, Angels lose
The Astros host the Yankees in the Play-in Game. The Rangers win the AL West.
5. Yankees win, Astros lose, Angels win
The Yankees host the winner of a one-game playoff between the Astros and Angels. The Rangers win the AL West.
6. Yankees lose, Astros lose, Angels win
The Yankees host the winner of a one-game playoff between the Astros and Angels. The Rangers win the AL West.
7. Yankees lose, Astros lose, Angels lose.
The Yankees host the Astros in the Play-In Game. The Rangers win the AL West.
8. Yankees win, Astros lose, Angels lose.
The Yankees host the Astros in the Play-in Game. The Rangers win the AL West.
So, a lot of scenarios where the Yankees still host the Play-In Game. But I don't think I'd bet it.
Yankees (87-72) @ Orioles (78-81) , Saturday October 3, 2015 , House Money Double Header
Game 1: Yankees: Ivan Nova (R) (88.1 IP, 4.89 ERA, 4.79 FIP, 0.7 bWAR) vs. Orioles: Wei-Yin Chen (L) (185.1 IP, 3.35 ERA, 4.18 FIP, 3.5 bWAR)
Game 1 Lineups
Yankees
1. Brett Gardner (L) CF: (.262/.346/.405), 3.5 bWAR
2. Rob Refsnyder (R) 2B: (.286/.333/.514), 0.1 bWAR
3. Alex Rodriguez (R) DH: (.252/.357/.491), 3.0 bWAR
4. Chris Young (R) LF: (.251/.318/.448), 1.1 bWAR
5. Chase Headley (S) 3B: (.262/.326/.374), 1.4 bWAR
6. John Ryan Murphy (R) C: (.283/.329/.414), 0.6 bWAR
7. Jose Pirela (R) RF: (.229/.247/.314), -0.6 bWAR
8. Austin Romine (R) 1B: (—-/—-/—-), 0.0 bWAR
9. Brendan Ryan (R) SS: (.228/.276/.337), 0.0 bWAR
Total Lineup bWAR: 9.1
Orioles:
TBA
I'm not sure the weather will even allow these games to be played…
Game 2: Yankees: Luis Severino (R) (55.1 IP, 2.77 ERA, 4.22 FIP, 1.8 bWAR) vs. Orioles: Ubaldo Jimenez (178 IP, 4.10 ERA, 4.04 FIP, 2.5 bWAR)
Lineups
Yankees
1. Jacoby Ellsbury (L) CF: (.261/.320/.351), 2.0 bWAR
2. Dustin Ackley (L) LF: (.229/.281/.424), -0.9 bWAR
3. Carlos Beltran (S) DH: (.273/.333/.470), 0.7 bWAR
4. Brian McCann (L) C: (.234/.321/.441), 2.8 bWAR
5. Greg Bird (L) 1B: (.255/.337/.530), 0.8 bWAR
6. Rob Refsnyder (R) 2B: (.286/.333/.514), 0.1 bWAR
7. Didi Gregorius (L) SS: (.263/.317/.364), 3.1 bWAR
8. Slade Heathcott (L) RF: (.391/.370/.696), 0.3 bWAR
9. Brendan Ryan (R) 3B: (.228/.276/.337), 0.0 bWAR
Total Lineup bWAR: 8.9
Orioles:
1. Nolan Reimold (R) CF: (.236/.324/.373), -0.3 bWAR
2. Gerardo Parra (L) RF: (.283/.320/.444), 0.6 bWAR
3. Manny Machado (R) 3B: (.287/.360/.498), 6.9 bWAR
4. Chris Davis (L) 1B: (.258/.355/.549), 4.7 bWAR
5. Steve Pearce (R) LF: (.223/.295/.433), -0.1 bWAR
6. Steve Clevenger (L) DH: (.303/.333/.461), 0.5 bWAR
7. Caleb Joseph (R) C: (.237/.301/.397), 2.3 bWAR
8. Ryan Flaherty (L) 2B: (.208/.289/.365), -0.2 bWAR
9. Paul Janish (R) SS: (.250/.242/.313), 0.1 bWAR
Total Lineup bWAR: 14.5
---
Friday, October 2, 2015
Twenty-four hours before the series finale, the Yankees were at a crossroads of sorts—so close to the 52nd playoff berth in franchise history, yet frustrated by three straight losses to the Red Sox. Missed opportunities had plagued them, and the anticipation in a frustrated clubhouse was budding.
But on Thursday night, in the 10,000th win in the franchise's storied history—a 4-1 victory over the Red Sox at rainy Yankee Stadium—the Yankees finally turned the corner, clinching an American League Wild Card spot. The Yanks could clinch home-field advantage for the AL Wild Card Game presented by Budweiser with one more win or one Astros loss.
Gotta love that commitment to the "presented by Budweiser" aspect of the Wild Card play-in game.
It sure was pretty awesome to have the Yankees clinch a playoff spot with their 10,000th career win, at home, against the Red Sox.
I was reading an article today about how many people got the American League playoff picture all wrong, as not a single major prognosticator from ESPN, Fangraphs or SB Nation predicted the Royals to make the playoffs. The Royals! The team that was just in the World Series last year! It made me think about how so many people were wrong about this Yankees team. CC Sabathia said as much during the celebration after the game, noting how people predicted them to finish in fourth place or last place. This team has definitely had more success than I or any of you expected. That said, if I had told you that A-Rod would slug nearly .500 in over 600 plate appearances and that Mark Teixeira would miss the final month plus of the season but still have nearly 40 home runs, you…I wouldn't say wouldn't believe it, as both of those things were possible (and of course you'd believe the "Mark Teixeira misses the final month of the season" part), but they also weren't particularly likely. But if you knew that they were true and if you knew that Masahiro Tanaka and Michael Pineda would not miss too much time this season, then you would believe that this team could win in the high 80s, wouldn't you? So this team is a bit less of a surprise than, say, Minnesota, who still doesn't make any sense that they're legitimately in the hunt for a playoff spot still with three games to play.
But that's really neither here nor there, as the main thing is WOOHOO! The Yankees made the playoffs!!
For the rest of the weekend, we have to root for a few things:
1. Minnesota somehow pulling it out, as, come on, they are so clearly worse than everyone else.
2. Houston losing at least one game, so the Yankees would at least get home field in the Play-In Game (SPONSORED BY BUDWEISER!). The Yankees can also solve that by just winning one of their games in rain-soaked Baltimore
3. Houston at least having to use Dallas Keuchel in the second-to-last game of the season.
4. Some crazy tie scenario where Dallas Keuchel has to pitch in a tiebreaker.
and then the tricky one…we want Minnesota to make the Wild Card, but for them to do so, they'll have to defeat Kansas City, and Kansas City is currently tied with Toronto for the best record in the American League. The Blue Jays own the tiebreaker, so if Minnesota makes the Wild Card, then KC cannot finish with a better record than Toronto. I think I'd accept playing the Blue Jays in the ALDS if it meant that the Yankees MADE the ALDS.
In other news, Lazarusabathia had another good game and Adam Warren was excellent in relief. Betances closed it out, which was good to see, as he's proooobably the Yankee MVP this season. Greg Bird and Rob Refsnyder both hit home runs, giving us SOME hope during the offseason, which will likely begin around 10:30 PM on Tuesday.
---
Thursday, October 1, 2015
Red Sox: Rich Hill (L) (23 IP, 1.17 ERA, 1.62 FIP, 1.4 bWAR) vs. Yankees: CC Sabathia (L) (162.1 IP, 4.82 ERA, 4.71 FIP, 0.9 bWAR)
Lineups
Red Sox
1. Mookie Betts (R) CF: (.296/.344/.488), 6.1 bWAR
2. Jackie Bradley Jr. (L) LF: (.254/.338/.512), 2.2 bWAR
3. Xander Bogaerts (R) SS: (.323/.355/.424), 4.7 bWAR
4. Travis Shaw (L) 1B: (.276/.336/.510), 1.3 bWAR
5. Rusney Castillo (R) RF: (.266/.300/.378), 1.0 bWAR
6. Allen Craig (R) DH: (.135/.229/.189), -0.7 bWAR
7. Deven Marrero (R) 3B: (.250/.250/.318), -0.5 bWAR
8. Sandy Leon (S) C: (.173/.232/.192), -0.4 bWAR
9. Josh Rutledge (R) 2B: (.292/.347/.354), 0.0 bWAR
Total Lineup bWAR: 11.5
Yankees:
1. Jacoby Ellsbury (L) CF: (.261/.320/.351), 2.0 bWAR
2. Rob Refsnyder (R) 2B: (.290/.343/.452), 0.0 bWAR
3. Alex Rodriguez (R) DH: (.252/.356/.492), 3.0 bWAR
4. Carlos Beltran (S) RF: (.274/.333/.466), 0.6 bWAR
5. Chris Young (R) LF: (.250/.316/.446), 0.9 bWAR
6. John Ryan Murphy (R) C: (.287/.325/.420), 0.6 bWAR
7. Greg Bird (L) 1B: (.255/.339/.517), 0.7 bWAR
8. Didi Gregorius (L) SS: (.262/.315/.363), 3.0 bWAR
9. Brendan Ryan (R) 3B: (.225/.274/.337), 0.0 bWAR
Total Lineup bWAR: 10.8
The Yankees received all the good news they needed from the out-of-town scoreboard on Wednesday, but the Red Sox delayed a potential celebration, scoring four runs in the top of the 11th inning to spoil the party with a 9-5 victory at Yankee Stadium.

Deven Marrero connected for a go-ahead single off Andrew Bailey and Mookie Betts added a two-run homer off Chasen Shreve, part of a two-homer game for the budding star, as the Yankees were unable to clinch a postseason berth.

A victory would have popped some corks in the home clubhouse, combined with the Twins' loss to the Indians and the Angels' loss to the Athletics. The Yankees have also been stuck on 9,999 regular-season victories, falling short in their third attempt to reach a round number milestone. Their magic number to clinch a playoff berth is now one.
After another dispiriting loss (and right in front of what is likely to be yet another loss, as Rich Hill has been great in his freakish out of nowhere return to starting pitching and he is, you know, a lefty, and CC Sabathia is, you know, not very good, and the Yankees' only three good relievers will not be available tomorrow night), the fact remains that Wednesday night still worked out pretty well for the Yankees. The Angels lost and the Twins split a doubleheader.
The standings for the Wild Card now read:
NY Yankees 86-72 (four games left)
Texas 86-72 (currently the AL West leaders) (four games left - all against the Angels)
Houston 84-75 (three games left)
LA Angels 83-75 (four games left - all against Texas)
Minnesota 82-76 (four games left)
The Yankees have already clinched at least a tie for the Wild Card.
If the Yankees win a single game in Baltimore (as they're clearly not winning Thursday night), they're in.
The interesting thing to me, though, is that their odds have gotten slightly worse regarding backing into the playoffs, as while Minnesota is likely not going to catch them (as it is seems unlikely that they'll win their last four games), I wouldn't be surprised at a Houston sweep of Arizona and Los Angeles taking 3 out of 4 against Texas. In that scenario, the records would be:
Yankees 86-76
Houston 87-75
Angels 86-76
Texas 87-75
I honestly don't know what would happen in that scenario, as no one in the sports media is talking about any scenario in which the Yankees do not win one of their last four games, which is probably good news to hear (everyone thinks it is extremely likely that the Yankees win one of the last four games and clinch), but I don't see how you don't show possible scenarios when those scenarios are still, you know, possible.
Anyhow, come on, Yankees, just win one game in Baltimore, please! By the way, just so you know, the Orioles have decided to bump Wei-Lei Chen from his start Thursday to start against the Yankees on Friday to screw with the Yankees. I honestly can't begrudge them it. If the Yankees are going to continue to be this pathetic against lefties, they deserve getting screwed over for it. Now a win is even more important, if only to stick it to Buck for him trying to stick it to the Yankees.
---
Wednesday, September 30, 2015
Red Sox: Wade Miley (L) (188.2 IP, 4.39 ERA, 3.80 FIP, 2.7 bWAR) vs. Yankees: Masahiro Tanaka (R) (149 IP, 3.38 ERA, 3.95 FIP, 3.1 bWAR)
Lineups
Red Sox
1. Mookie Betts (R) CF: (.293/.342/.477), 5.9 bWAR
2. Dustin Pedroia (R) 2B: (.296/.361/.448), 2.1 bWAR
3. Xander Bogaerts (R) SS: (.324/.356/.426), 4.7 bWAR
4. David Ortiz (L) DH: (.269/.355/.543), 2.9 bWAR
5. Travis Shaw (L) 1B: (.273/.335/.498), 1.1 bWAR
6. Brock Holt (L) RF: (.282/.351/.381), 2.8 bWAR
7. Blake Swihart (S) C: (.272/.319/.394), 0.5 bWAR
8. Deven Marrero (R) 3B: (.256/.256/.333), -0.3 bWAR
9. Jackie Bradley Jr. (L) LF: (.259/.343/.522), 2.3 bWAR
Total Lineup bWAR: 22.0
Yankees:
1. Jacoby Ellsbury (L) CF: (.262/.320/.351), 2.2 bWAR
2. Chase Headley (S) 3B: (.263/.326/.376), 1.6 bWAR
3. Alex Rodriguez (R) DH: (.250/.353/.486), 2.9 bWAR
4. Carlos Beltran (S) RF: (.274/.333/.467), 0.7 bWAR
5. Brian McCann (L) C: (.235/.321/.444), 3.0 bWAR
6. Chris Young (R) LF: (.246/.313/.443), 1.0 bWAR
7. Greg Bird (L) 1B: (.250/.327/.514), 0.6 bWAR
8. Rob Refsnyder (R) 2B: (.259/.276/.407), -0.2 bWAR
9. Didi Gregorius (L) SS: (.265/.318/.367), 3.2 bWAR
Total Lineup bWAR: 15.0
---
Tuesday, September 29, 2015
The Yankees were hopeful that Tuesday would be the day they'd celebrate a postseason berth and 10,000 regular-season wins, but a rainout in another game and the first inning of their own 10-4 loss to the Red Sox brought those plans to a screeching halt.

The Yankees needed a win on their end, a Twins loss and either a loss by the Rangers or Angels on Tuesday to clinch their first playoff berth since 2012. But the Minnesota-Cleveland game was postponed due to rain, making it impossible for the Yanks to clinch even if they had rallied to win their own game.

Michael Pineda gave up six earned runs in the first frame as the Red Sox batted around. It was too much damage for the Yanks, who scored four runs in the bottom half of the frame, to overcome.
Do you know what the Yankees' record is in their last ten games? It seems like it must be, like, 2-8 or 3-7, right? It's 5-5. They've played .500 baseball their last ten games. They've played .500 baseball their last four games. In other words, if you want to place higher priority on the last two losses than the wins that preceded them, then fair enough, but I don't think there's any real reason to do so. This is not some great team, but nor is it a team in the midst of a free fall. Michael Pineda sometimes shits the bed. That's just something he does. It sucks. He is a major disappointment. But it is not some grim premonition of doom, either.
You all also get that the Angels finish the season with four games against Texas, right? That's very, very good news for the Yankees.
Here are the records, presuming Houston and Anaheim both win tonight (Houston is only up a run right now in the middle of the fifth, but that is pretty much a lock for a win, I imagine):
Yankees: 86-71 (5 game left to play)
Texas: 85-72 (5 games left to play)
Houston: 84-74 (4 games left to play)
Angels: 83-74 (5 games left to play)
Twins: 81-75 (6 games left to play, including a doubleheader tomorrow)
See how hard it is for the Yankees to NOT make the playoffs? Two of those AL West teams can make the playoffs without it hurting the Yankees (as one can win the division and the other can win the other Wild Card), but because two of them play each other four times at the end of the season, that almost assuredly eliminates one of them. So it would come down to the Twins having to make up 4 losses in 6 games. Do you like those chances? Minnesota finishes the season with three against Kansas City. KC has been terrible recently, but they're still unlikely to get swept by the Twins.
If the Yankees win one more game and the Rangers and Twins lose one more game, the Yankees make the playoffs. It seems pretty hard to imagine that the Yankees will go 0-5 while the Rangers and Twins go 5-0 and 6-0, respectively.
Also, the Orioles are throwing a lefthanded pitcher against Toronto on Thursday, so that's one less lefty for the Yankee to face against Baltimore.
So don't worry too much. This team is not a great one (they're considering having John Ryan Murphy play first base to get another righthanded bat into the lineup, for crying out loud!), but they're still very likely to be playing in the Wild Card Play-In Game come Tuesday.
EDITED TO ADD:
Well, Houston surprisingly lost (our old friend Robbie Cano tied the game with a home run and then the Mariners won it in the 8th inning). So here are the records through tonight's games:
Yankees: 86-71 (5 game left to play)
Texas: 85-72 (5 games left to play)
Angels: 83-74 (5 games left to play)
Houston: 83-75 (4 games left to play)
Twins: 81-75 (6 games left to play, including a doubleheader tomorrow)
Things are basically the same as they were before, only now the Yankees' odds go up even more, as now they don't even necessarily need a Ranger loss, as the Rangers can win out and the Yankees would still make the playoffs if they win one of their last five games and Houston loses one of their last five games and Minnesota loses one of their last six games.
Red Sox: Rick Porcello (R) (157 IP, 5.04 ERA, 4.28 FIP, 0.4 bWAR) vs. Yankees: Michael Pineda (R) (151 IP, 3.99 ERA, 3.31 FIP, 2.3 bWAR)
2015 American League Leaders in Outs Per Game
Minimum 100 games played.
| | | | | |
| --- | --- | --- | --- | --- |
| Rk | Name | G | Outs | Outs/Game |
| 1 | Alcides Escobar | 142 | 464 | 3.268 |
| 2 | Brian Dozier | 152 | 482 | 3.171 |
| 3 | Jacoby Ellsbury* | 107 | 339 | 3.168 |
| 4 | Adam Jones | 137 | 424 | 3.095 |
| 5 | Trevor Plouffe | 147 | 453 | 3.082 |
| 6 | Jose Altuve | 149 | 459 | 3.081 |
| 7 | Robinson Cano* | 151 | 465 | 3.079 |
| 8 | Melky Cabrera# | 153 | 470 | 3.072 |
| 9 | Billy Burns# | 121 | 370 | 3.058 |
| 10 | Adrian Beltre | 137 | 418 | 3.051 |
| 11 | Albert Pujols | 151 | 460 | 3.046 |
| 12 | Hanley Ramirez | 105 | 319 | 3.038 |
| 13 | Mookie Betts | 139 | 422 | 3.036 |
| 14 | Alexei Ramirez | 148 | 449 | 3.034 |
| 15 | Torii Hunter | 134 | 404 | 3.015 |
| 16 | Elvis Andrus | 154 | 464 | 3.013 |
| 17 | Austin Jackson | 107 | 322 | 3.009 |
| 18 | Salvador Perez | 136 | 409 | 3.007 |
| 19 | Kole Calhoun* | 153 | 460 | 3.007 |
| 20 | Adam Eaton* | 148 | 443 | 2.993 |
It would have been a tidy wrap for the Yankees to secure their first postseason berth since 2012 on the same night they notched the 10,000th regular-season victory in franchise history, but those plans will have to be put on hold for another evening.

The Red Sox defeated New York, 5-1, at Yankee Stadium, to delay the milestone victory for another night. Since the Yankees needed an extensive sequence of events in order to clinch, including both a win and losses by the Twins, Rangers and Angels, that will have to wait at least one more night as well. Both the Twins and Angels won on Monday.

The Yankees can secure at least an American League Wild Card on Tuesday with a victory over the Red Sox if the Twins and Angels lose their respective games Tuesday. With the Blue Jays beating the Orioles, 4-3, on Monday, Toronto has a magic number of two for clinching the AL East crown.
It is really quite maddening when you realize that the Yankees have scored the second most runs in the American League (a distant second, but still) and yet they haven't been able to score for a month or so now. Don't get me wrong, a big part of that is that their best offensive player went missing right around that time and their second-best offensive player more or less went missing around the same time (while still getting regular Designated Hitter at-bats since). Not the sort of thing you want to see from a team headed to the postseason, especially since their "reward" if they win the Play-In Game looks pretty much like it will be left-handed ace starting pitcher David Price, as the Blue Jays (who won yet another game that they trailed late - it is like the Jays took all of their early-season bad luck and just flipped it, as they seem to have nothing but good luck lately) are now one game up on the KC Royals, and I suspect that to be about that for the best record in the American League race.
In a rare piece of good news, Masahiro Tanaka has recovered from his injury suffered due to the foolish inability of the National League to enter the 21st Century, so he will start Wednesday in a tune-up for the Wild Card Play-In Game (PRESENTED BY BUDWEISER! DON'T FORGET THAT THE WILD CARD GAME IS PRESENTED BY BUDWEISER!). His hamstring is apparently fine, as is his elbow (the elbow stuff is weird, "How's the elbow?" "Uhmmm…why would there be a problem with my elbow NOW?")
---
Monday, September 28, 2015
BOS: Eduardo Rodriguez (#52, 22, LHP, 9-6, 3.97) vs. NYY: Ivan Nova (#47, 28, RHP, 6-9, 4.87
---
Sunday, September 27, 2015
The Yankees got one step closer to the playoffs Sunday with a 6-1 win over the White Sox. New York remains four games behind American League East-leading Toronto, while cutting its magic number to clinch a postseason berth to three with seven games remaining.

Brian McCann delivered a sacrifice RBI to score Jacoby Ellsbury in the first after a walk and two Jose Abeu errors loaded the bases for the Yanks. The deciding run came in the sixth on Dustin Ackley's homer. Later that inning, Rob Brantly's passed ball allowed Slade Heathcott to score from third, making it 3-0, and Ellsbury's RBI single in the seventh made it 4-1. The final runs came in the eighth.

Chicago's run came in the seventh when pinch-hitter Avisail Garcia hit his 13th homer over the center-field wall. It was just the second pinch-hit homer this season for the White Sox, who finished 36-45 on the road.
At least Yankees.com is finally giving up on the division. No "still four games back!" stuff.
Severino was excellent again. A lot of the talk around him today is whether he would actually be the pitcher in the Play-In Game if Tanaka is unavailable. Speaking of that, here is a snippet from Yankees.com about Tanaka's availability, "Girardi said Tanaka would have to start by Thursday if he was going to be able to start in both one more regular-season game and the American League Wild Card Game presented by Budweiser. A start after Thursday wouldn't give him enough days of rest for the Wild Card Game." Yes, I shit you not, the article actually says "the American League Wild Card Game presented by Budweiser." That is hilarious.
In addition, in case people were wondering where the heck Stephen Drew has gone, he is suffering dizziness due to a bad sinus infection. He explained "that he thinks sinus congestion instigated fluid in his ears, which aggravated damage done when he was hit in the head by a fastball two years ago." That kind of sucks for him.
Anyhow, hopefully the Yankees clinch home field for the Play-In Game in the next few games against Boston. Always fun to celebrate with the Red Sox in town.
White Sox: Erik Johnson (R) (23 IP, 3.52 ERA, 6.02 FIP, 0.4 bWAR) vs. Yankees: Luis Severino (R) (49.1 IP, 3.10 ERA, 4.39 FIP, 1.3 bWAR)
Lineups
White Sox
1. Adam Eaton (L) DH: (.283/.356/.422), 3.4 bWAR
2. Jose Abreu (R) 1B: (.289/.347/.503), 3.8 bWAR
3. Melky Cabrera (S) LF: (.275/.317/.397), 1.6 bWAR
4. Trayce Thompson (R) CF: (.306/.364/.582), 1.3 bWAR
5. J.B. Shuck (L) RF: (.273/.351/.356), 0.9 bWAR
6. Mike Olt (R) 3B: (.195/.271/.351), -0.3 bWAR
7. Rob Brantly (L) C: (.174/.231/.348), 0.0 bWAR
8. Carlos Sanchez (S) 2B: (.228/.269/.337), 1.0 bWAR
9. Tyler Saladino (R) SS: (.234/.275/.347), 1.3 bWAR
Total Lineup bWAR: 13.0
Yankees:
1. Jacoby Ellsbury (L) CF: (.260/.316/.347), 2.0 bWAR
2. Brett Gardner (L) LF: (.260/.346/.408), 3.2 bWAR
3. Carlos Beltran (S) DH: (.275/.334/.470), 0.8 bWAR
4. Brian McCann (L) C: (.239/.327/.452), 3.1 bWAR
5. Greg Bird (L) 1B: (.242/.322/.523), 0.5 bWAR
6. Dustin Ackley (L) 2B: (.230/.280/.405), -0.9 bWAR
7. Didi Gregorius (L) SS: (.267/.316/.369), 3.0 bWAR
8. Slade Heathcott (L) RF: (.350/.318/.700), 0.4 bWAR
9. Brendan Ryan (R) 3B: (.218/.261/.333), -0.1 bWAR
Total Lineup bWAR: 12.0
That doesn't strike me as the lineup of a team that is actually heading to the postseason.
---
Saturday, September 26, 2015
Chase Headley and Alex Rodriguez drove in runs with a pair of consecutive ground-rule doubles, Adam Warren combined with three relievers on a three-hitter and the Yankees posted a 2-1 victory over the White Sox on Saturday at Yankee Stadium.

The win reduced the Yankees' magic number to clinch a postseason berth to four. New York remains four games behind the Blue Jays in the chase for the American League East title with eight games remaining. The White Sox officially were eliminated from postseason contention and guaranteed a third straight losing season.

"These games are all going to be great preparation for October," said Rodriguez, who knocked in the deciding run facing Chicago starter John Danks, who scattered six hits over six innings, in the sixth inning. "We're going to be in a lot of tough games, a lot of tight games. We've been facing really good pitching and tonight was a good win."

Warren recovered from a shaky first inning to complete six innings of one-run ball, picking up his seventh victory and his first since rejoining the rotation. Justin Wilson and Dellin Betances hurled scoreless innings to set up for closer Andrew Miller, who logged his 36th save in 38 chances.
It's adorable how how Yankees.com still talks about the division.
Anyhow, Adam Warren and the bullpen were excellent today and I loved the big hit from A-Rod, but boy, yet another terrible day overall from the offense. This does not bode well for the Play-In Game.
White Sox: John Danks (L) (166.2 IP, 4.59 ERA, 4.57 FIP, 0.2 bWAR) vs. Yankees: Adam Warren (R) (122.1 IP, 3.46 ERA, 3.65 FIP, 2.2 bWAR)
Lineups
White Sox
TBA
Yankees:
TBA
---
Friday, September 25, 2015
White Sox: Carlos Rodon (L) (133.1 IP, 3.78 ERA, 3.81 FIP, 1.4 bWAR) vs. Yankees: CC Sabathia (L) (155.2 IP, 4.80 ERA, 4.59 FIP, 0.8 bWAR)
Lineups
White Sox
1. Adam Eaton (L) CF: (.283/.356/.425), 3.3 bWAR
2. Jose Abreu (R) 1B: (.291/.349/.509), 4.0 bWAR
3. Trayce Thompson (R) RF: (.315/.378/.618), 1.4 bWAR
4. Melky Cabrera (S) LF: (.277/.319/.401), 1.6 bWAR
5. Leury Garcia (S) DH: (.154/.214/.154), -0.1 bWAR
6. Alexei Ramirez (R) SS: (.250/.285/.358), 1.0 bWAR
7. Mike Olt (R) 3B: (.197/.269/.324), -0.3 bWAR
8. Tyler Flowers (R) C: (.228/.284/.348), 0.2 bWAR
9. Gordon Beckham (R) 2B: (.206/.272/.319), 0.6 bWAR
Total Lineup bWAR: 11.7
Yankees:
1. Brett Gardner (L) CF: (.260/.345/.409), 3.2 bWAR
2. Chase Headley (S) 3B: (.262/.327/.375), 1.2 bWAR
3. Alex Rodriguez (R) DH: (.251/.355/.492), 3.0 bWAR
4. Carlos Beltran (S) RF: (.279/.337/.477), 1.0 bWAR
5. Brian McCann (L) C: (.240/.324/.455), 2.9 bWAR
6. Chris Young (R) LF: (.247/.310/.447), 1.0 bWAR
7. Greg Bird (L) 1B: (.256/.333/.552), 0.7 bWAR
8. Rob Refsnyder (R) 2B: (.176/.167/.353), -0.5 bWAR
9. Didi Gregorius (L) SS: (.267/.315/.370), 2.9 bWAR
Total Lineup bWAR: 15.4
Playing Refsnyder again? Apparently Girardi doesn't even want to win a wild card at this point.
NEW YORK — The Yankees received good news Thursday evening when doctors cleared right-hander Masahiro Tanaka to throw a bullpen either Friday or Saturday.

Tanaka was skipped his last start in Toronto because of a Grade 1 hamstring pull he suffered last Friday in Queens against the Mets. He strained it when running from the batter's box after laying a bunt down, something he doesn't do very often since he plays in the American League.

Manager Joe Girardi said late Thursday night he doesn't know which day it will be that Tanaka will throw his bullpen, but said either way it would line Tanaka up to pitch in a game early next week, either Monday or Tuesday.

This, then, would likely set Tanaka up to pitch October 6, the American League Wild Card game that appears to be the Yankees' avenue into the playoffs. (They're currently up 4.5 games on the Houston Astros for the first slot.)
Since Tanaka probably wouldn't have pitched much better than Nova did, his missing his turn Wednesday turned out to not matter very much. I'm not looking forward to the Yankees facing Dallas Keuchel in a win or go home situation, so hopefully the Astros have to fight to the end and can't set up their rotation to pitch him if they make it.
---
Thursday, September 24, 2015
White Sox: Chris Sale (L) (194.2 IP, 3.47 ERA, 2.67 FIP, 2.8 bWAR) vs. Yankees: Michael Pineda (R) (145 IP, 4.10 ERA, 3.31 FIP, 2.0 bWAR)
Lineups
White Sox
1. Adam Eaton (L) CF: (.280/.353/.423), 3.2 bWAR
2. Jose Abreu (R) 1B: (.292/.350/.511), 4.0 bWAR
3. Melky Cabrera (S) LF: (.277/.319/.402), 1.5 bWAR
4. Trayce Thompson (R) RF: (.314/.372/.593), 1.2 bWAR
5. Adam LaRoche (L) DH: (.211/.298/.347), -0.6 bWAR
6. Alexei Ramirez (R) SS: (.248/.284/.357), 1.0 bWAR
7. Carlos Sanchez (S) 2B: (.232/.272/.343), 1.2 bWAR
8. Tyler Flowers (R) C: (.224/.281/.346), 0.2 bWAR
9. Tyler Saladino (R) 3B: (.239/.280/.353), 1.4 bWAR
Total Lineup bWAR: 13.1
Yankees:
1. Jacoby Ellsbury (L) CF: (.260/.316/.348), 1.7 bWAR
2. Chase Headley (S) 3B: (.260/.326/.374), 1.1 bWAR
3. Alex Rodriguez (R) DH: (.253/.356/.495), 3.0 bWAR
4. Carlos Beltran (S) RF: (.277/.336/.470), 0.8 bWAR
5. Chris Young (R) LF: (.246/.310/.449), 1.0 bWAR
6. John Ryan Murphy (R) C: (.281/.322/.417), 0.4 bWAR
7. Dustin Ackley (L) 1B: (.233/.283/.411), -0.9 bWAR
8. Rob Refsnyder (R) 2B: (.143/.133/.357), -0.5 bWAR
9. Brendan Ryan (R) SS: (.226/.270/.345), -0.1 bWAR
Total Lineup bWAR: 6.5
Really? 6.5 bWAR?
I guess this is Girardi conceding the division. I mean how can you possibly play Refsnyder?
TORONTO — When Russell Martin swung and belted a no-doubt-about-it drive into the left-field seats, the baseball was not the only thing to which the Yankees could wave goodbye.

Gone, too — in all likelihood — are their division-title hopes after Martin's three-run, seventh-inning homer delivered the crowning blow in the Toronto Blue Jays' 4-0 win Wednesday, which put them three and a half games ahead of the Yankees with 11 days remaining in the regular season.

If it was especially painful that the Yankees were beaten by Martin, a catcher whom they allowed to leave as a free agent after the 2012 season, or that they were stymied for the second time this month by the Long Island native Marcus Stroman, they were most disappointed that the division seemed to be slipping away.

"It's not mathematically impossible, but it's difficult," said Manager Joe Girardi, whose team must face the White Sox' ace, Chris Sale, when it returns home Thursday night. "We have to play extremely well. We're going to have to be almost perfect."
I say It's pretty much mathematically impossible.
If you had told me before the season started that the Yankees were still going to be contending for the AL East on September 23 and playing a game which would leave them just one game back in the loss column with a victory, I'd have been happy with it. But if you told me they'd have blown a seven game division lead in less than two months, not so much.
So yeah, they've been better than I expected and are almost a lock to get into the play-in game and that's better than I thought before the season started. But it's still disappointing given where they were on July 28.
I'm not seeing a team that is going to get out of the ALDS either way, so I'm not sure it matters all that much.
---
Wednesday, September 23, 2015
Yankees: Ivan Nova (R) (75.2 IP, 5.11 ERA, 4.91 FIP, 0.3 bWAR) vs. Blue Jays: Marcus Stroman (R) (12 IP, 3.00 ERA, 4.39 FIP, 0.3 bWAR)
Lineups
Yankees
1. Jacoby Ellsbury (L) CF: (.263/.319/.352), 1.6 bWAR
2. Brett Gardner (L) LF: (.262/.347/.412), 3.4 bWAR
3. Alex Rodriguez (R) DH: (.253/.357/.495), 3.0 bWAR
4. Brian McCann (L) C: (.240/.325/.458), 3.0 bWAR
5. Carlos Beltran (S) RF: (.279/.336/.473), 0.9 bWAR
6. Greg Bird (L) 1B: (.256/.336/.562), 0.6 bWAR
7. Chase Headley (S) 3B: (.260/.326/.374), 1.2 bWAR
8. Dustin Ackley (L) 2B: (.231/.283/.407), -0.9 bWAR
9. Didi Gregorius (L) SS: (.266/.315/.370), 2.8 bWAR
Total Lineup bWAR: 15.6
Blue Jays:
1. Ben Revere (L) LF: (.304/.342/.369), 2.6 bWAR
2. Josh Donaldson (R) 3B: (.297/.369/.571), 8.2 bWAR
3. Jose Bautista (R) RF: (.252/.375/.531), 4.6 bWAR
4. Edwin Encarnacion (R) DH: (.277/.370/.549), 4.3 bWAR
5. Justin Smoak (S) 1B: (.225/.299/.465), 1.1 bWAR
6. Russell Martin (R) C: (.239/.325/.444), 2.9 bWAR
7. Ryan Goins (L) SS: (.245/.317/.347), 2.6 bWAR
8. Kevin Pillar (R) CF: (.264/.300/.378), 4.1 bWAR
9. Darwin Barney (R) 2B: (.000/.000/.000), -0.3 bWAR
Total Lineup bWAR: 30.1
If only Masahiro Tanaka were pitching tonight.
But missing a start or three doesn't make up for the thrill we got watching him try to bunt, right?
Strategy!
Yogi Berra, one of baseball's greatest catchers and characters, who as a player was a mainstay of 10 Yankee championship teams and as a manager led both the Yankees and Mets to the World Series — but who may be more widely known as an ungainly but lovable cultural figure, inspiring a cartoon character and issuing a seemingly limitless supply of unwittingly witty epigrams known as Yogi-isms — died on Tuesday. He was 90.

His death was reported by the Yankees and by the Yogi Berra Museum and Learning Center in Little Falls, N.J. Before moving to an assisted living facility in nearby West Caldwell, in 2012, Berra had lived for many years in neighboring Montclair.

In 1949, early in Berra's Yankee career, his manager assessed him this way in an interview in The Sporting News: "Mr. Berra," Casey Stengel said, "is a very strange fellow of very remarkable abilities."

And so he was, and so he proved to be. Universally known simply as Yogi, probably the second most recognizable nickname in sports — even Yogi was not the Babe — Berra was not exactly an unlikely hero, but he was often portrayed as one: an All-Star for 15 consecutive seasons whose skills were routinely underestimated; a well-built, appealingly open-faced man whose physical appearance was often belittled; and a prolific winner — not to mention a successful leader — whose intellect was a target of humor if not outright derision.

That he triumphed on the diamond again and again in spite of his perceived shortcomings was certainly a source of his popularity. So was the delight with which his famous, if not always documentable, pronouncements, somehow both nonsensical and sagacious, were received.

"You can observe a lot just by watching," he is reputed to have declared once, describing his strategy as a manager.

"If you can't imitate him," he advised a young player who was mimicking the batting stance of the great slugger Frank Robinson, "don't copy him."

"When you come to a fork in the road, take it," he said, giving directions to his house. Either path, it turned out, got you there.

"Nobody goes there anymore," he said of a popular restaurant. "It's too crowded."
I think my favorite Berra quote is "I really didn't say everything I said."
I didn't get to see any of Berra the player, but Berra the character was a huge part of baseball lore. It's worth perusing his Baseball Reference page just to get a sense of how good of a player he actually was.
With the way baseball has changed, it seems almost impossible that any player will ever match Berra being a part of 10 World Series victories.
R.I.P. Mr. Berra.
---
Tuesday, September 22, 2015
Yankees: Luis Severino (R) (43.1 IP, 3.12 ERA, 4.18 FIP, 1.1 bWAR) vs. Blue Jays: Marco Estrada (R) (160.1 IP, 3.14 ERA, 4.42 FIP, 3.2 bWAR)
Lineups
Yankees
1. Jacoby Ellsbury (L) CF: (.261/.316/.346), 1.4 bWAR
2. Brett Gardner (L) LF: (.262/.347/.413), 3.4 bWAR
3. Alex Rodriguez (R) DH: (.255/.358/.499), 3.0 bWAR
4. Brian McCann (L) C: (.238/.325/.458), 3.0 bWAR
5. Carlos Beltran (S) RF: (.276/.335/.464), 0.7 bWAR
6. Greg Bird (L) 1B: (.250/.333/.534), 0.5 bWAR
7. Chase Headley (S) 3B: (.262/.328/.377), 1.3 bWAR
8. Dustin Ackley (L) 2B: (.234/.282/.411), -0.8 bWAR
9. Didi Gregorius (L) SS: (.263/.312/.366), 2.7 bWAR
Total Lineup bWAR: 15.2
Blue Jays:
1. Ben Revere (L) LF: (.304/.343/.370), 2.6 bWAR
2. Josh Donaldson (R) 3B: (.299/.369/.574), 8.2 bWAR
3. Jose Bautista (R) RF: (.253/.375/.534), 4.5 bWAR
4. Edwin Encarnacion (R) DH: (.278/.371/.547), 4.2 bWAR
5. Justin Smoak (S) 1B: (.226/.301/.470), 1.1 bWAR
6. Dioner Navarro (S) C: (.250/.309/.372), 0.7 bWAR
7. Ryan Goins (L) SS: (.247/.319/.350), 2.6 bWAR
8. Kevin Pillar (R) CF: (.260/.296/.367), 3.7 bWAR
9. Munenori Kawasaki (L) 2B: (.211/.286/.316), 0.2 bWAR
Total Lineup bWAR: 27.8
TORONTO — David Price vanished after seven shutout frames with a four-run cushion. Aaron Sanchez lasted two batters and Brett Cecil was greeted by a Jacoby Ellsbury single that drove in a run.

Now, after a long night of futility against Price and attempting to climb out of the ditch Adam Warren put them in the Yankees were threatening against the Blue Jays' bullpen.

Dustin Ackley was on second, Ellsbury on first with Brett Gardner facing Cecil with the Yankees trailing by three runs and one out.

After squandering a scoring chance in the third against Price the Yankees couldn't let this one get away and still hope to cut into the Blue Jays' AL East lead.

Then Cecil's full-count, borderline breaking ball to Gardner was called a strike by umpire Greg Gibbons. Cecil ended the Yankees' attempt to cut further into the lead by striking out Alex Rodriguez and Brian McCann on the way to a 4-2 Blue Jays victory that was witnessed by 47,648 delirious Rogers Centre fans.
"There is nothing you can do about it,'' manager Joe Girardi said of the pitch Gibbons called Gardner out on. "Maybe it changes the complexion of the inning but we still had our opportunities.''
Eh. I had pretty much given up on the Yankees winning the East. I'm guessing their odds now are in the single digits.
---
Monday, September 21, 2015
Yankees: Adam Warren (R) (119 IP, 3.33 ERA, 3.70 FIP, 2.4 bWAR) vs. Blue Jays: David Price (L) (208.1 IP, 2.42 ERA, 2.80 FIP, 6.0 bWAR)
Lineups
Yankees
1. Jacoby Ellsbury (L) CF: (.259/.315/.345), 1.2 bWAR
2. Brett Gardner (L) LF: (.264/.347/.416), 3.3 bWAR
3. Alex Rodriguez (R) DH: (.255/.359/.501), 3.1 bWAR
4. Brian McCann (L) C: (.241/.327/.463), 3.1 bWAR
5. Carlos Beltran (S) RF: (.278/.338/.469), 0.9 bWAR
6. Chase Headley (S) 3B: (.264/.331/.380), 1.4 bWAR
7. Greg Bird (L) 1B: (.250/.336/.518), 0.4 bWAR
8. Didi Gregorius (L) SS: (.264/.312/.368), 2.9 bWAR
9. Dustin Ackley (L) 2B: (.232/.281/.412), -0.7 bWAR
Total Lineup bWAR: 15.6
Blue Jays:
1. Ben Revere (L) LF: (.303/.342/.370), 2.6 bWAR
2. Josh Donaldson (R) 3B: (.299/.367/.575), 8.1 bWAR
3. Jose Bautista (R) RF: (.251/.374/.533), 4.4 bWAR
4. Edwin Encarnacion (R) DH: (.277/.370/.548), 4.2 bWAR
5. Justin Smoak (S) 1B: (.225/.301/.469), 1.1 bWAR
6. Russell Martin (R) C: (.240/.326/.447), 2.8 bWAR
7. Ryan Goins (L) SS: (.246/.317/.350), 2.6 bWAR
8. Kevin Pillar (R) CF: (.261/.296/.369), 3.7 bWAR
9. Cliff Pennington (S) 2B: (.208/.291/.276), 0.0 bWAR
Total Lineup bWAR: 29.5
Yankee Win Probability: 36.46%
Win probability does not lie.
NEW YORK — Can we make this match-up the World Series? (Hey maybe then Matt Harvey won't come out after five innings!)

The Yankees beat the Mets, 11-2, Sunday night at Citi Field, the finale of a three-game Subway Series that the Yankees won, two games to one. The weekend attendance in Flushing was the largest for a three-game series in the stadium's seven-season history. And indeed, every game was akin to an October match-up.

CC Sabathia didn't out-pitch Harvey on Sunday but he lasted longer and that ended up mattering much, much more. The Yankees erupted for five runs in a crucial Harvey-less sixth inning, three of them thanks to their newest second baseman blasting a homer with two outs.

And their newest first baseman chipped in as well, launching a three-run blast of his own two innings later that provided the nail in the coffin.

Think this weekend was a big series? It was.

But the next? It might just decide the season.
Since donning a knee brace, CC has been more effective. It's only three starts, but the line is encouraging.
17.1 IP, 12 H, 4 R, 2ER, 8 BB, 18 K.
If he can give them quality starts over the rest of the season, the Yankees should be in a good position for the wild card at the very least.
Wouldn't it have been nice if the Yankees didn't have to seeMasahiro Tanaka get injured doing something he shouldn't be doing so he could be starting a game in their most crucial series of the past three seasons?
Yes, it would have been. But instead we'll get Ivan Nova, who still doesn't appear to have recovered from his ligament replacement surgery. Or maybe he has and this is what he is.
I would never have expected the Yankees to gain a game against Toronto this weekend, so I'm happy about that.
I'll be even happier if they can somehow win against David Price tonight.